Railway Stations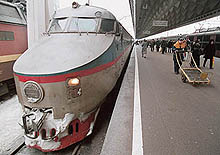 St. Petersburg has five railway stations with lines connecting the city literally with every part of the world. If you are coming to St. Petersburg from Europe through Poland or the Baltic states, you will arrive at the Warsaw Station, which is on Obvodny Canal.
Visitors coming from Northern Europe through Finland will arrive at the Finland Station on the Vyborg Side. Trains from the Ukraine and from the west through Belarus come in at the Vitebsk Station, which is on Zagorodny Prospect, in the old centre of the city. Finally, trains from the south and east arrive at the Moscow Station on Uprising Square, in the very centre of St. Petersburg. All railway stations have local train services to the city's suburbs. All of the city's railway stations have taxi ranks, access to metro stations, and stops serving all types of surface transport.
Russia's long-distance trains are comfortable. On the whole, you will find your Russian fellow-passengers kind-hearted and helpful; travelling with them in the same compartment will not only make your journey pass quickly, but will give you a good opportunity to get to know Russia better. However, you should still exercise care. Your main protection is your own foresight and common sense. It is almost always possible to tell whether a person may be trusted or not. If a fellow-passenger is too talkative, tries too hard to please you, offers you strong alcohol, or suggests that you visit the train's restaurant at his expense, these are signs that you should be on your guard. In fact, there is little that you need to worry about while you are in your compartment. The chances that a criminal will have bought a ticket for the compartment in which you happen to be are almost non-existent. It is wise, though, to take basic precautions: make sure that your personal belongings are kept in the special luggage lockers under the lower bunk, and do not leave valuables unattended.
Below we give details of a number of unfortunate incidents, which have befallen foreign tourists as a result of their excessive trustfulness or failure to take precautions. It is regrettable that such incidents are often used by the foreign media to produce colourful, but exaggerated stories on the situation with crime in Russia. For example, the following report appeared in a foreign newspaper: "Two foreign citizens were robbed in the Sofia - St. Petersburg express train. Money and valuables amounting to several thousand dollars were stolen". The newspaper article goes on to tell the reader that in Russia "travelling by public transportation is very dangerous: you will either be robbed or raped or killed. The entire Russian population drinks vodka non-stop, and the streets are patrolled by bears". Such stories are not worth taking seriously. As for the incident described above, what actually happened was as follows:
Two foreigners were dining in the restaurant car. They were joined at their table by two strangers, who struck up a conversation with them. Enjoying themselves and drinking strong spirits with the strangers, the foreigners forgot the most elementary personal safety rules. When they decided it was time to go to bed, they were escorted to their compartment by the helpful strangers. Waking the next morning, they found that all their money and possessions had gone.
Another thing to watch out for is invitations to play cards as a means of passing time away. At first these games may be "for pleasure only", but then someone will suggest that you play for money. This is a sure sign that you are up against a card-sharper. In the beginning, you will be allowed to win, even a considerable sum. But in the end you risk losing all your money and valuables.
If you are afraid of being robbed at night, while you are asleep, ask your car-attendant for a block to put on the door of your compartment. This will make it impossible for anyone, including the car-attendant, to enter your compartment from the outside. Let us suppose, however, that in spite of all your precautions you have fallen victim to a crime. What should you do, and what action should you expect from the authorities? The very first thing you should do is to inform the car-attendant. The car-attendant, for his/her part, should record the exact time of the incident and the time at which he/she was informed of the incident, and must then pass all information to the senior conductor on the train. If there is a police unit on board, investigation of the incident will begin immediately. If not, the senior conductor will call ahead to the next station, and your train will be met by an investigation group, who will initiate a search. Often such searches produce immediate results. But even if the criminal(s) is/are not caught immediately, do not give up hope. The search will continue until a positive result has been obtained.
When on the platform of a busy station, remember that crowds are a favourite habitat for pickpockets. Do not leave your luggage unattended, and keep your wallet, documents, and money in an inside pocket. At most stations you will find porters ready to help you with your luggage. In Russia porters wear uniform, a distinctive cap, and a badge with an identity number. All other persons offering porter services are not porters and may well be thieves. Make a note of your porter's number while he is pushing your luggage on his cart. Payment should be made when your luggage has been carried to its destination.
Please see also: Railway Transort

Print this document
---
Back to Guides section