Taxi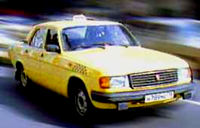 It goes without saying that the most convenient form of transportation in a city which you do not know well is the taxi. The majority of the city's taxis are "Volgas" marked with the word "TAXI" or with black squares on the roof and doors (there are 1,200 such taxis in St. Petersburg). A green light lit up on the carís windshield means that a taxi is for hire. To get a taxi to stop, raise your hand decisively. Taxis may also be hired at taxi ranks outside stations and hotels.
Many taxi drivers in the city speak English. If necessary, they can give you information and tell you about St. Petersburg. Charges are computed according to the car's meter, although they are often determined in advance by agreement. Bear in mind that at night-time charges are 50% higher. You will also be asked to pay more if you hire a taxi at a railway station or airport.
If you are truly in a hurry, you may order taxis at hotels and restaurants by phone at 265-1333 (24 hours a day). After a 5-10 minute wait, you will be told the number of the taxi which has been sent for you. When it arrives, do not forget to check its number against that which you have been given.
You should resort to freelance car services only when there is no alternative; note that there is no public control over the technical condition of these cars or the state of health of their drivers. Payment for such journeys is a matter of private agreement between you and the driver. If you do not know the standard rates, you risk being overcharged for your journey.
In some cases drivers of private cars may have criminal intentions. Incidentally, when paying, pay in rubles. Russian law forbids payment in foreign currency. There are currency exchanges in many hotels, on stations, and in banks. Carry your coins and small-value notes with you in order to pay for services. If a driver tries to insist that you pay in foreign currency, remind him of the law against this practice.
Many hotels offer car hire services. Cars may be chauffeured or self-drive.

Print this document
---
Back to Guides section