Telephones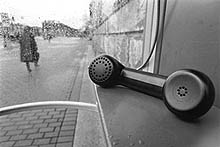 St. Petersburg has special 2- and 3-digit telephone numbers for use in emergency situations. The most important of these are: 01 for the firefighting service; 02 for the police service; 03 for the ambulance service; and 060 for the speaking clock. These and many other numbers are free of charge.
There are 15,000 payphones, most of which are located at metro stations, at major trading centres, in hotels and on the city's central streets and squares. These may be used to make a call to anywhere in the world. On them you will find the following buttons allowing you to adjust the equipment for your own convenience: the button with arrows inscribed on it is for adjusting the volume; the button marked "i" switches the language of the display to English; the button marked "k" allows you to insert a new card without your conversation being interrupted.
It is unwise to buy phone cards from unofficial traders or to allow your card to be used by a stranger in return for the promise of subsequent payment (you risk having your card replaced with an "empty" one).
At the present time there is a mobile phone leasing service in Russia. There are many mobile telephone services available in Russia, including nationwide roaming and the connection to a mobile telephone service in the country where you are a permanent resident. Sales points for such services are to be found in most hotels.
Calls to other cities and foreign countries may be made through an operator. Dial 07 to book a call or to receive instructions on how to ring through on your own. The latter procedure is reasonably straightforward. Simply dial "8", wait for a continuous tone, dial the code of the city which you want (e.g. 095 for Moscow), and then, without waiting for further signals, dial the number of the subscriber. To call someone in a foreign country: dial "8", wait for the continuous tone, dial "10", then the code for the country you want, the area code, and then the number you need.
International calls may be booked 24 hours a day by dialling 079. Dial 070 for information on telephone numbers, codes, instructions on how to place a call to another city or country, and information on per-minute rates.
In the interests of your personal security we recommend that you do not pass confidential information over the telephone. This is due to the fact that both ordinary and mobile telephones are liable to bugging. Don't tell about money you have, about your destinations, etc.
Please see also: Emergency Numbers

Print this document
---
Back to Guides section