Advice to women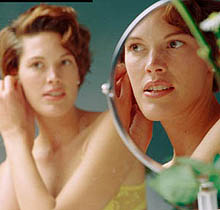 The first thing we have to say to women travelling to St. Petersburg is words of reassurance. Here you will find the same level of care as you are used to back home. Our hairdressing and beauty salons, massage cabinets, swimming pools, and saunas are staffed by professionals of the very highest class.
In St. Petersburg you may dress as you wish: have no fear of standing out against the background of those around you. In St. Petersburg, as throughout the civilized world, women dress comfortably, pragmatically, and to suit themselves.
Try not to walk on your own, especially in the evening. If you have to go on foot, plan your route so as to walk through well-lit and busy streets. When going somewhere at night, though, it is better to order a taxi over the telephone.
If you find yourself the victim of unwelcome sexual advances, play for time and try to work the situation round to your advantage. Our advice is:
Take the threat seriously; do not provoke your attacker verbally.
If you speak Russian, do not argue with your attacker. Keep calm. Speak confidently and slowly. Avoid making gestures.
If your assailant moves towards you, back away slowly, keeping a distance between you and him. At the same time look round for an escape path.
Men who attack women almost always expect that their victim will put up no resistance. Try to shock your assailant by surprise actions. Switch on your rape alarm, let out a piercing shout, and use everything that comes to hand - your keys, umbrella, bag.
If your assailant catches hold of you and tries to force you up to the attic, into the basement, or into a non-residential building, resist with all your might. Bear in mind that in the above places you will be in even greater danger. If you feel that you are unable to put up active resistance, pretend that fear has robbed you of the power of movement. At the same time, lose no opportunity to run away and call for help.
Do not get into a lift or enter a hallway at night with men who are strangers.
Do not get into a car a lift at night with men who are strangers.
Do not visit young men whom you hardly know in their apartments, hostels, or hotel rooms, however attractive they may seem. Do not invite such people home to where you live.
Be on your guard with strangers whose acquaintance you make on the streets or in public places. Avoid giving your address and telephone number. When you intend visiting someone, tell a friend where you are going and when you are due to return, and agree that your friend phone you at home at a pre-arranged time to make sure that you have got back safely (or leave the number of the apartment where you are going).
Recently in St. Petersburg a criminal investigation was initiated following a complaint from a female American citizen. She got to know some young people in a cafe, had a good time with them, went back to the apartment of one of their number, and spent the night there. The following morning, she invited her new friend home to her own apartment, where they were joined by his mates, and that evening they again made merry.
Thus things continued for a number of days until the young lady discovered that belongings and money had gone missing from her apartment. She tried to sort things out with her friends without calling in the police, but without success.
The interesting point is that when the young lady returned to America, she frequently spoke out against the appalling crime situation in Russia, although she had herself hardly exercised necessary care in the choice of her friends.
ncidentally, when on her next trip to Russia she decided to complain to the police, her stolen things were quickly returned to her. It then emerged that her "friends" had served several sentences for theft.

Print this document
---
Back to Safety Guide section