Cash payments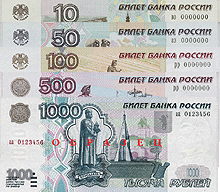 Since it is against the law to pay in foreign currency on the territory of the Russian Federation, you have to exchange your money for Russian roubles. We remind you that since January 1, 1999 only banknotes and coins issued m 1997 or later are valid.
It is not a problem to exchange money in St. Petersburg. There are a lot of banks and exchange offices, especially in the centre of the city, including those in large department stores and hotels. Some of them are open 24 hours a day. Exchange rates in different exchange offices are slightly different. If you want to exchange some money you need to have proper credentials (national passport or passport for travelling abroad, etc.) with you. The documents are necessary for issuing a currency convertion certificate (which you may need when leaving the country).
Remember, when changing money you should be on the alert for trickery and fraud. Do not ever exchange money with individuals. As a rule, they offer a better exchange rate, but you risk loosing all your money.
Here is an example of how this kind of fraud works.
A foreign tourist walked up to an exchange office in Gostiny Dvor (one of the city's largest department stores) and found it closed. Suddenly a man approached him. He offered the foreigner to exchange money at a favourable exchange rate. The man seemed not a bit suspicious, so the deal was made. But when the American tourist wanted to buy something he discovered that it was not money but just apack of paper in bis pocket.
If somebody asks you to hold their money for a while do not agree to do so. Nor do we advise you to pick up a purse if you see one on the ground. Otherwise swindlers may accuse you of substitution of the money and demand compensation of the missing sum.
If you fall a victim to fraud, we recommend that you contact the police by dialling 02.
In the majority of restaurants, large shops and banks in St. Petersburg you can pay by credit card. Cards of all major internationaTpayment systems (VISA, Maestro, EuroPay, American Express etc.) are received. Still, this sort ofpayment has not yet become common enough. Therefore we advise that you always have some cash roubles on you.
Credit card fraud is common in restaurants and night clubs. Lost or stolen credit cards may be used to purchase some goods or to obtain cash from cash-mashines, provided the swindlers know your private identification number (code). In some cases credit cards are quietly returned to their holders after they have been used to make expensive purchases. For this reason you better not leave your credit cards (and receipt slips that may be copied by the swindlers for illegal operations) anywhere even for a short period of time.
Along with the credit cards such means of payment as traveller's cheques, Euro-cheques and other kinds of cheques may be subjects to criminal
encroachment. Illegal use of such cheques is connected with thefts, robberies, fraud, or accidental loss of the traveller's cheques by the legal holders. In these cases, when there is holder's signature on the cheque, a thief forges the secondsignature himself or with the assistance of an accomplice and then obtains the sum stated in the cheque at some financial or other establishment.
When leaving Russia, you may take up to $1500 with you without any certificate. There is, on the other hand, no limit on the amount of foreign currency you may bring into the country. When leaving Russia, you should enter the sum of money you are taking with you in your customs declaration before you cross the border. You may take more than $1500 (but not more than $10000) provided that you have documents for customs clearance showing that the money had been legally transfered or brought to the Russian Federation, or taken from the current account (in foreign currency), or purchased at the authorized bank of the Russian Federation. (Statute of the Central Bank of the Russian Federation N 105-1, Statute of the State Customs Committee of the Russian Federation N 01-100/1 from January 12, 2000 Regarding the Procedure of Exporting Foreign Currency from the Russian Federation by Individuals, paragraphs 2.1 and 2.2)
Advice on currency regulation is available from the Main Office of the Central Bank of the Russian Federation on: 320-59-67.
Advice on banking services is available at the authorized banks.

Print this document
---
Back to Safety Guide section