Museums
Cabin of Peter the Great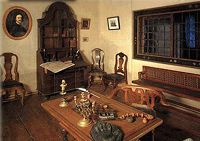 "The Fontal Palace" is St. Petersburg's oldest construction. The one-storied cottage (60 square metres in area) has been built by soldiers on May 24 through 26 of 1703 out of pine logs. From outside it is painted the colour of brick, from within upholstered with canvas Dutch-style.
In 1723 by the order of Peter I the house was encapsulated into a protective gallery which was substituted by a brick encasement (1844, arch. R.I. Kuzmin). In 1874 the house got a cast-iron railing and a year later a bust of Peter (sculp. P.P. Zabello according to the design by N. Jillet) was unveiled. In 1930 the house became a museum.
Not far away from the Cottage of Peter I there is a descent to the water decorated with stone statues on three-tiered bases. These "Shi-Tzsa" (the Chinese for "a lion") were brought from the Manchurian town of Guirin by the General N.I. Grodekov and donated to the city.
| | |
| --- | --- |
| Address: | 6, Petrovskaya Embankment |
| Subway (Metro): | Gorkovskaya (Browse map) |
| Tel: | + 7 (812) 232 4576 |

Print version
---
Back to All Museums list