Museums
State Hermitage Museum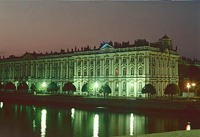 The State Hermitage is the largest museum in Russia possessing tremendous artistic value. It is amongst such treasure-houses of art as the Louvre, the National Gallery, the Metropolitan and el Museo del Prado.
The museum occupies five edifices, four of which form the characteristic magnificent outlook of the Dvortsovaya (Palace) Embankment. These are the Zimniy (Winter) Palace (arch. B.F. Rastrelli, 1754-1762), the Minor (Maly) Hermitage (arch. J.-B.-M. Vallin de La Mothe, 1764-1775), the Old (Stary) Hermitage (arch. Yu.M. Felten, 1771-1787) and the Hermitage Theatre (arch. G. Quarenghi, 1783-1787) joined by a picturesque arch hung over the Zimnyaya Kanavka (Winter Canal).
The monumental building of the New Hermitage (arch. L. Klenze, with V.P. Stasov and N.E. Efimov) was the first building erected especially as a museum. The grand Atlases of its portico (sculp. A.I. Terebenev, design by Galbig) have become one of symbols of the entire city.
Nowadays the art gallery exhibits the works of Raphael and Leonardo da Vinci, Titian and Murillo, Rubens and Rembrandt, Picasso and many others. European sculpture and artware are also abundant.
Besides this, the Hermitage gives one a possibility to get acquainted with the cultures of Ancient Egypt, China, Persia, Byzantium, and with its 70 thousand Ancient Roman and Greek exhibits. A considerable part of the exposition is dedicated to Russian art.
The magnificent Hermitage with its masterpieces of art will never erase from your memory.

Print version
---
Back to All Museums list