Museums
State Museum of St. Petersburg's History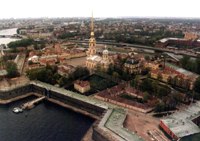 Established in 1918 on the basis of the "Old St. Petersburg", Museum which had been founded 11 years before. Its funds were supplemented by the Museum of Defense of Leningrad after the latter had been closed in 1954. The main exposition is in St. Peter and Paul's Fortress.
The former Commandant's House is occupied by the Department of 1703-1917 history comprising more than 3,000 exhibits about the foundation of the new Russian capital and its transformation into the cultural and scientific center of the country. Visitors can observe the Memorial Hall where the Decembrists were doomed to death. The museum also shows the former jail in Trubetskoy's and Zotov's bulwark, exhibits related to the history of the mint, etc.
St. Peter and Paul's Cathedral itself is one of the most important monument the city's history. It has served as the necropolis of all Russian Emperors.
The museum's affiliate in the Rumyantsev House has contained interesting exhibits about the past-revolutionary period (It now only deals with the period from 1917 to 1945). The house was bought by N.P. Rumyantsev, the great field-marshal's son, to be converted into a museum. The magnificent portico with 12 pillars and bas-reliefs on the pediment (sculp. I.P. Martos) gives the Admiralty Embankment its unique appearance.
The exposition in the Smolny Cathedral which has existed during 1974-1990, is now closed.
| | |
| --- | --- |
| Address: | 44, English Embankment |
| Subway (Metro): | Nevsky Prospect (Browse map) |
| Tel: | + 7 (812) 238 4701 |

Print version
---
Back to All Museums list