Anniversary news
Canada to give St. Petersburg a new square among other gifts
03.05.2003 14:57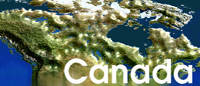 There are three parts in the Canadian program for the festivities: the official program, the cultural program and the social program.
Canadian Prime Minister Jean Chretien will come to the G8 meeting on May 30-31. For the first time in the history of Russo-Canadian relation Her Excellency the Right Honorable Adrienne Clarkson, Governor General of Canada will arrive to Russia for a state visit on September 26-October 3. The Governor General of Canada is appointed by the Queen of Great Britain and serves as Her Majestyís official representative. In St. Petersburg Gov.-Gen. Clarkson will represent not only Canada but the British Crown as well. And on April 22-25 a Canadian delegation will come to St. Petersburg to attend the 6th General Assembly of the Northern Forum.
Canada is contributing such an extensive culture and arts program that 2003 can safely be renamed the year of Canada. In December St. Petersburg will welcome Coleman & Lemieux Dance Duo, famous tenor Gary Rideout and the Toronto Opera. The Sergei Kurekhin International Festival will be attended by the Canadian Rock Trio. The Welsh Menís Choir from Vancouver will perform in June in the Conservatory, and in the fall Canada will present a film entitled Atanarjuat. The name of the film comes from the ancient epic saga of Canadian aborigines. In September Virtuosi di Toronto, a Canadian chamber ensemble will take part in the 2nd International Chamber Orchestra Festival in St. Petersburg. In the fall of this year St. Petersburg will also welcome numerous art exhibitions from the Maple Leaf country.
The social program of the largest country of North America will include an annual honorary diploma award for St. Petersburg women entrepreneurs on March 12. Special cooperation projects will be organized with the support of the Canadian International Development Agency. This project will include CAD 20,000 awards to special children orphanage in Pavlovsk, Detskie Dyuny Childrenís Rehabilitation Center in St. Petersburg, the Russian National Library, Boarding School No. 2 for Children with Speech Disorders, the Russian State Museum of Arctic and Antarctic, and the Vaganova Academy of Russian Ballet. In June St. Petersburg will once again welcome the traditional Canada Days.
A Quebec delegation headed by Mayor Jean-Paul L'Allier will arrive in July to inaugurate a new St. Petersburg square: the nameless area in front of Sovetskaya Hotel will be given the name of Ploschad Kvebeka (Quebec Square). A monument to Canadian poet Emile Nelligan will later be erected in the square.
News source: www.ipc-spb.ru


Print this news
---
Anniversary news archive for 05 March' 2003.
Anniversary news archive for March' 2003.
Anniversary news archive for 2003 year.