Anniversary news
Total cost of "Nevskaya feeriya" amounted to $2 million
05.05.2003 15:26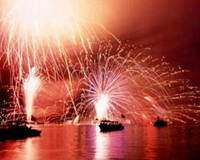 Total amount of money allocated for organization of the water celebration in the waters of Neva river planned on 27 and 31 May, 2003 is equal to $2 million. As was said by Irina Potekhina, vice-governor of Petersburg, "significant portion of that sum was allocated by the Ministry of Culture of the Russian Federation, the remaining portion – contribution of our sponsors".
One the issues at spot became Samsung company with its part in the financing of the event equal to $550 thousand. Cumulative amount of a charitable and sponsor contribution into the anniversary of the city on Neva river makes a total of $1 million.
Water show in the waters of Neva between Troitskiy , Dvortsovyy and Birzhevoy mosts will happen twice – 27 and 31 May, although these two events are somewhat different in scenario and time schedule. The official ceremony dedicated to 300-Anniversary will be given on 31 May with Vladimir Putin and honorable guests, members of governmental delegations from around the world. The president will entrust the official persons to lay a memorable medal on a sarcophagus of Peter the First.
Neva and Spits of Vasilyevskiy Island embankments will be decorated with a heraldic symbolics of Russian and the Northern capital. sailing vessels will stand on a roadstead in front of the Peter and Paul Fortress in the Neva waters. By the walls of the fortress a specially erected amphitheatre will house an orchestra of one thousand and a chorus of one and a half thousand. The tribunes for honorable guests will be fixed along the whole Dvortsovaya embankment. "VIP-persons will leave in an hour after the beginning of the event and the tribunes will be occupied by children, entrance will be free for all and without any passes whatsoever", - noted the governor Vladimir Yakovlev.
"An acting persons" of the water show, which will follow after the official ceremony, will become the yachts, aqua-bikes, rowing yowls and etc. A specifically invited French company will take care of design elements of the water celebration showing a "son of lumiere" "show of the dancing fountains" from five barges.
News source: www.300online.ru


Print this news
---
Anniversary news archive for 05 May' 2003.
Anniversary news archive for May' 2003.
Anniversary news archive for 2003 year.