Anniversary news
The State Hermitage will complete restoration works by the anniversary of Saint Petersburg
05.05.2003 15:13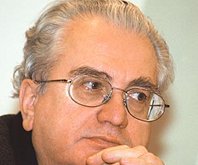 The State Hermitage Museum will restore the halls, its Headquarters and opened a new storage facility by the anniversary of Saint Petersburg.
"Our main gifts for the Anniversary of the city are the restored halls of the State Hermitage Museum, Headquarters and a new storage facility, as well as exhibitions, which will be opened during the whole anniversary year", - said Michail Piyotrovskiy, Director of the State Hermitage, at press-conference in the Hermitage theatre today.
According to Michail Piyotrovskiy, Gallery of the 1812 will be opened after restoration on 8 May, first building of a Restoration and storage center will be opened on 16 May, repair of the building of Headquarters will have been completed by October. Building of New Hermitage, George and Venetian halls, Jordan gallery of Hermitage are being repaired now.
According to Michail Piyotrovskiy, the exhibition "To the founder of Petersburg", which will be opened from 3 June until 31 August inclusively, is one of the biggest and important among all anniversary exhibitions of the city, as the State Hermitage owns a unique set of Peter`s collections and memorial belongings of the Emperor. In addition, "Swedish glass" exhibition will be opened 25 April – 7 July in Appolo hall, exhibition of works of the French artist Nicole De Stall, the son of the last commandant of the Peter and Paul Fortress, will be opened from 12 May – 17 August in Alexander hall. Work of the Dutch group of craftsmen "Kobra" and its contemporaries will be exhibited in the Peter`s gallery from 16 May to 28 September inclusively. Exhibition "Alexander Danilovich Menshikov. First governor and constructor of Saint Petersburg" will be opened from 20 May to 17 September inclusively.
Exhibition of Danish painter Laurtis Tuksen will start work in George`s hall from 10 June. 125 photographs made by Tuksen from the collection of the Museum of modern art of New York city will be exposed in the hall s by Saltykov`s entrance from 17 June to 31 August. Exhibition "Sai Tvombli in Hermitage" will work from 8 July to 21 September. This is a sensational exhibition, as it has been very long since the last time when any exhibited the works personally made by the painter", noted Michail Piyotrovskiy. By the end of this year visitors of the State Hermitage will also have a chance to see the exhibition of Spanish jeweler`s art, expositions dedicated to Stroganovs and Alexander the First.
As the gifts to the Anniversary new souvenirs with the Hermitage`s symbolics will be available for sale, as well as a consignment of Coca-Cola drinks with the image of Hermitage.
News source: www.300online.ru


Print this news
---
Anniversary news archive for 05 May' 2003.
Anniversary news archive for May' 2003.
Anniversary news archive for 2003 year.