Printed from: http://petersburgcity.com/news/business/2001/05/30/news294/
Business news, 30.05.2001 12:43
Corporate holiday marked at JSC "Kirovsky Factory".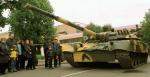 The event coincided with one more important date: 25 years ago the famous T-80 tank, created by Kirovsky Factory, became one of the armaments of the Soviet military forces. An experimental sample of a new powerful universal tractor K-745 was presented to the holiday´s guests. This machine, created by Kirovsky Factory in cooperation with the German Land und KFZ Technik firm, has a 420-horsepower engine, is equipped with a board computer and complies with today´s highest world standards. The tractor may be used in agriculture and in many other areas of the economy.

Photo of the holiday´s participants in front of T-80 tank by S. Smolsky, ITAR-TASS.