Printed from: http://petersburgcity.com/news/business/2001/07/30/winterseasons/
Business news, 30.07.2001 13:44
Special tourism program will be developed for city anniversary.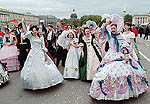 Special tourism program will be worked out for Petersburg anniversary in 2003.

The main goal is to attract tourists in unpopular winter and Autumn seasons. Project implementation is planned for the next year. All European airlines will take part in it.

For tourist 'Winter seasons' program will be organized.

'Committee 300' and 'Restek' exhibition company will held an exhibition 'Four seasons in Saint-Petersburg'. It will promote the idea that Petersburg is attractive not only in white nights season.