Business news
New airport to be organized in Puskin.

07.31.2001 12:54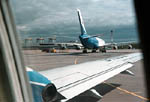 The city's Investment Tender Commission has given the initial go-ahead for territory on a military airfield in the suburb of Pushkin to be converted into a private airport.
The development plan calls for the Ministry of Defense to hand over 48 hectares of land at the airport, which presently serves as a base for Russia's Sixth Air Army, to a private firm, Pushkin Airport.
The company will get the land for free, with the condition that it builds a civil-airport facility. Plans for the facility include the construction of the airport building itself, a business center, a cargo and import/export complex and refueling facilities.
According to Valery Chernyshov, the general director of the Pushkin Airport company, the exact cost of the project will not be known until the firm that will do the actual construction has been selected, but preliminary estimates by the firm have placed the price tag in the neighborhood of $10 million to $12 million.
In handling only private flights and helicopter service, Pushkin Airport will be going up against existing competitors as Pulkovo 1 and Pulkovo 2, St. Petersburg's main domestic and international airports respectively, already handle this business, as does Rzhevka airfield, which is located in the city's northwest.
Major General Gennady Torobov, the commanding officer of the 6th air army, told Vedomosti business daily that there were about 60 private planes operating out of St. Petersburg and the Leningrad Oblast, where there are also a number of small airfields. In the city, there are 27 airplanes operating out of the Rzhevka airfield and one at Pulkovo.
"Pulkovo airport is already able to handle the present volume of private flights," Alexander Shestakov, the head of the airport's air-traffic-control service, said Monday. "There are usually three or four private flights on working days and up to 10 on Saturdays and Sundays."
"There's still a lot of unused capacity here, so even if there's some growth in the future I doubt that the new airport will be able to compete."
Vladimir Molodnichenko, the general director of Rzhevka airfield, agrees.
"They're located vary near the Pulkovo airports, so I don't really see the point," he said Monday. "Also, it will be part of a grounds that still contains a military airport. That might cause difficulties for the businesspeople and international flights landing there."
But Chernyshov says the new airport will be completely different from the older ones.
"The main difference in the new airport will be that it will offer a full range of air services," Chernyshov said on Thursday. "Big airports, such as Pulkovo, don't care about private aviation.
"Rzhevka was huge in the Soviet period and handled millions of passengers. Now it handles private flights, but the airport consists only of a few hangars and doesn't provide any extra services."
Once Pushkin Airport receives final permission from the city administration, is planning to strike a deal with the adjoining military airfield to provide training and aid with technology in servicing the field's aircraft. He said that in this way the new airport would be able to help private individuals fly more safely.
"Right now Russian private aviation is entering a new era of development," he said. "Russian law permits private aviation, so anyone can have his own helicopter in his own yard, but the general lack of organization and services in the industry causes an unnecessarily high number of crashes."
But Rzhevka's Molodnichenko disagrees.
"We provide all the necessary services for planes and passengers," he said. "In all the time we've been operating here, we've never had a crash."
"But services and maintenance for private aviation are still very basic in St. Petersburg, because no one is paying specific attention to developing this market."
Kineks Invest, with 51 percent of all shares, owns a controlling interest in the new airport company, while Baltiiysky Aviafund with 39 percent and International Trucking Expediters Co. with 10 percent round out the ownership.
News source: The Saint-Petersburg Times


Print this news
---
Business news archive for 31 July' 2001.
Business news archive for July' 2001.
Business news archive for 2001 year.