Printed from: http://petersburgcity.com/news/business/2001/08/01/port/
Business news, 01.08.2001 14:50
New port to be organized in Petersburg.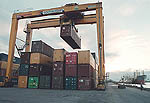 Sea port in Lomonosov will be included in city port developing programme.

So, new port for general cargo processing will be organized in Saint-Petersburg.

Local authorities have already approved the program. Private investors will give money for the project.