Business news
City prepares for celebration.

08.06.2001 12:08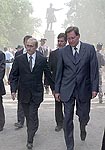 Governor Vladimir Yakovlev signed a decree this week setting prices for various levels of corporate sponsorship.
"Participation in the St. Petersburg 300 programme is primarily an example of what business can do for its favorite city," said Sergei Lepkovich, general director of the Pyatyorochka chain of grocery stores, in a telephone interview on Wednesday.
According to Yakovlev's decree, a single "general sponsorship" will be available for $3 million. One "special sponsorship" will go for $1 million. "Honorary sponsorships" will cost $500,000. Ordinary sponsors will pay $250,000.
According to a representative of City Hall Fund 300, which is responsible for raising money for the event, about 50 Moscow and St. Petersburg-based foreign and domestic companies have expressed interest in buying a sponsor package at one level or another. Only two unspecified companies have definitely declined to participate so far.
Although the fund has refused to mention any specific company names so far, some firms have publicly expressed their interest in participating.
Maria Krivykh, a spokesperson for the German company Siemens in Moscow, acknowledged that her company was negotiating with the fund. She said Siemens viewed the event as a good opportunity to raise its image locally, since 2003 also marks the 150th anniversary of the company's operations in Russia.
"There are negotiations taking place at the moment," Krivykh said. "I would recommend that you wait until October, when [the company] forms its budget," she said in a telephone interview on Monday.
The Ford Motor Company also expressed a general interest and also said that it was too soon to say anything definite.
"We are interested in this celebration. St. Petersburg and the Leningrad Oblast are where we built a factory, so this is a native city for us," Ford spokesperson Oksana Hartanyuk said in a telephone interview Tuesday from Moscow. "But it is too early to talk about it now. I would not expect anything concrete until next year."
Hartanyuk also said that Ford had received 10 offers to purchase sponsorships from various sources.
Local businesses surveyed by The St. Petersburg Times this week also expressed cautious interest.
"We haven't analyzed the situation yet," said Anna Maslobayeva, spokesperson for the local construction company Vozrozhdeniye. "I don't know about $3 million, but we are a company that is powerful enough to participate somehow."
Promstroibank is also looking for ways to participate in the celebration.
"Everything depends on the program, but since we don't know it yet, we can't say what [money] would be there. But in any case, we are going to do something significant," said Anatoly Morgunov, Promstoibank PR manager in a telephone interview on Wednesday.
"We are here, and we are not going to move anywhere, so we can't be indifferent to this event," Morgunov said.
The Pyatyorochka grocery-store chain has already offered to help Committee 300, the City Hall organization in charge of organizing the event, by publicizing the event through its stores and joint events.
Committee 300 is a separate municipal organization from Fund 300, which is in charge of fund-raising including the commercial sponsorships.
Yet another organization, the Federal Commission for the 2003 Jubilee, is chaired by President Vladimir Putin, a native son and former St. Petersburg vice mayor. This commission met in February to discuss its plans, after which Northwest Region Governor General Viktor Cherkesov announced that 40 billion rubles ($1.4 million) had been allocated by the federal government to fund preparations over a 2 1/2-year period.
According to the commission's plan, most of the money, about $1 billion, will be used to complete the ring road around St. Petersburg. The rest of the money will be used to renovate "major jubilee sites," including the Russian National Library, the Peter and Paul Fortress, the Naval Museum, the Hermitage and the Mariinsky Theater.
Vladimir Shitarev, head of City Hall Culture Committee told Interfax Tuesday that 11 million rubles has already been spent on the library, and the Mariinsky will receive 103 million rubles, making it the second-largest project after the ring road.
"I can't say exactly how much money the city will spend on the anniversary," said Alexander Afanasyev, Yakovlev's spokesperson, in an interview Wednesday.
"All the [city] budget money, except for the salaries for workers and officials, will be spent on this, because the preparation itself is work to make the city look good for the celebration, and that's what we do."
Leonid Romankov, a member of the Legislative Assembly tricentennial commission said that this year's budget includes nearly 40 million rubles for the event, although he was not able to say exactly what it would be spent on.
Asked about the commercial sponsorships, Afanasyev said, "I think there will be enough participants for us to gather the necessary number of sponsors." He declined to say what he meant by "the necessary number."
Moscow's 850th-anniversary festivities in 1997 cost an estimated $12 million. Stockholm, which is celebrating its 750th birthday next summer, is also operating on a $12 million budget.
News source: The Saint-Petersburg Times


Print this news
---
Business news archive for 06 August' 2001.
Business news archive for August' 2001.
Business news archive for 2001 year.