Business news
More cellular-telephone service providers to come to the city's market.
08.10.2001 14:56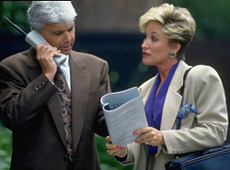 Radiotelecommunications Company (RTK) is aspiring to become St. Petersburg's fifth cellular-telephone service provider. The company already holds a license and now seems to have found the necessary investment to begin operations. The only thing RTK now lacks is the bandwidth required to run its system.
At present, the firm provides service using the CDMA standard under the Petrosvyaz brand name, but only in four cities in the Leningrad Oblast, with a total of 7,000 subscribers. According to RTK General Director Igor Petrov however, the company has bigger plans.
"The cellular business in the oblast is just not profitable enough," Petrov said. "But we are now planning to set up a network in St. Petersburg."
Metrosvyaz Ltd., which is registered in Cyprus and owns 50 percent of PTS' stock has come forward with the investment necessary to build the new system.
RTK has held the license to operate within St. Petersburg for three years, but the Communications Ministry has maintained that there is no surplus bandwidth in the 800-Megahertz range to assign to it.
Officially, the CDMA standard has not been cleared for cellular-service usage in Russia, but operators are generally able to get around this restriction.
"It's not easy to break into a market that is dominated by Telecominvest [through North-West GSM] and where [Moscow-based] MTS will soon arrive," Anton Pogrebinsky, an analyst with J'son & Partners, said. "It will all depend on how well they are able to mobilise their lobbying resources."
"The position of their investor, Metrosvyaz, used to be very strong, but it has weakened somewhat."
Technically, St. Petersburg already has one provider operating on the CDMA standard. St. Petersburg Telecom, which provides AMPS-based cellular service under the FORA trademark, also formally announced that it was kicking off a CDMA system last September. But the actual taking on of subscribers has not got underway.
According to Alexander Andreyev, technical director at FORA, the installation of 30 base stations would be sufficient to provide coverage for the entire St. Petersburg area. With each of the base stations costing between $60,000 and $100,000, the total cost of the undertaking, including the price for a central switching station, would be somewhere in the neighborhood of $5 million.
By comparison, MTS this year alone plans to pour $50 million into their St. Petersburg network, covering the cost of installing 120 base stations.
News source: Vedomosti


Print this news
---
Business news archive for 10 August' 2001.
Business news archive for August' 2001.
Business news archive for 2001 year.