Printed from: http://petersburgcity.com/news/business/2001/09/03/news762/
Business news, 03.09.2001 17:01
Companies Compete to Become a General Contractor.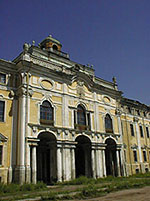 Three St.Petersburg consortiums and two foreign companies compete to become a general contractor of the Konstantinovsky Palace reconstruction. The winner of the tender will be announced by the end of this week.

Saint Petersburg consortiums Sixteenth Trust, Lenstroyrekonstruktsiya and ZAO Vozrozhdenie [Restoration] together with a Czech-Yugoslavian company are competing in the tender.

News source: IA "Rosbalt"