Business news
Gas stations must pay up
12.22.2003 13:12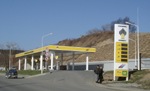 The amount of excise tax collected from city fuel retailers has risen sharply after Governor Valentina Matviyenko announced that no new gas stations would be built by retailers unless they pay the taxes in St. Petersburg, an official says.
Vladimir Blank, head of Smolny's economic development, industrial policy and trade committee, said that in October only 58 million rubles came into city coffers from this tax.
However, almost immediately after Matviyenko was elected on Oct. 5 she announced that only those companies that pay the excise will be allowed to build new gas stations.
As a result, Blank said, in November close to 100 million rubles was collected."In December, we expect a lot more," he said. Speaking at a seminar on construction of gas stations organized by Vedomosti newspaper, AI92 news agency and Lynx information technology firm, Blank said last week that City Hall had budgeted to collect 2.7 billion rubles ($90 million) in excises in 2003. If this amount had been collected the city budget would be deficit-free.
Since Jan. 1 the excise has been set at 3,000 rubles per metric ton of fuel, with 60 percent of the tax going to the local administration and 40 percent to the federal budget. No law says whether excises should be paid in the administrative region where the refinery, fuel wholesaler, or retailer is located and in many cases these three institutions are in different administrations.
Blank said St. Petersburg is lobbying for legislation making the beneficiary of the tax the administration where the end user is. Although prices are unregulated in the retail market, retailers must get supplies on which the excise has not been paid if they want to pay the tax to the city and remain competitive. However, oil refiners Surgutneftegaz, Lukoil and Slavneft have their own retail outlets to which they provide excise-free fuel, but other retailers are supplied only with fuel on which the excise has been paid elsewhere.
About half the city's fuel comes from Surgutneftegaz's refinery at Kirishi in the Leningrad Oblast, which will lose significant revenue if Matviyenko prevails. Told of fears that City Hall's action will remove some players - and especially developers who build only to sell gas stations and therefore never build a tax-paying history - from the market, Blank said Smolny is ready to reconsider if the fears prove true.
Blank said an expert commission is being created that will regulate the sale of sites for new gas stations. The commission is to take into account the changes to traffic flows that will affect fuel purchases after the planned completion of the ring road in 2006, he added.
News source: www.sptimes.ru


Print this news
---
Business news archive for 22 December' 2003.
Business news archive for December' 2003.
Business news archive for 2003 year.