Business news
Plum wine hits local market
01.08.2004 15:19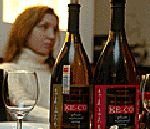 The first plum wine bottled in Russia is on sale in St. Petersburg. Although plum wine currently occupies less than 1 percent of total wine sales, with fruit wines holding a bit more than 2 percent, local wine producers are eager to shift from poor-quality grape wine brands to a wider range in fruit wine production.
Ke-Co, the first plum wine to be bottled in Russia, is produced at the Moscow-based wine bottling factory Rubin and made under the license and using the wine components supplied by Ke-Co Japanese Bottlers Limited.
According to Gennady Muratov, deputy general director of Rubin, Ke-Co is packaged in bottles of 1.45 liters, the retail price of which is estimated to be between 195 and 220 rubles. The factory bottles two sorts of wine: white plum and rose plum.
Rubin has already sold 20,000 bottles in Moscow, while it currently produces 200,000 bottles per month.
Muratov said the factory is planning to increase production up to 1 million bottles per month by the end of 2004, as well as to expand the range of wines to bilberry, apricot, mango and chokeberry and launch a new 0.725 liter bottle.
Rubin invested $10 million in the new production, including the purchase of two tankers of plum wine ingredients from Japan.
Dmitry Khoroshev, president of Euroservice, the distributor of Ke-Co in St. Petersburg, said that the local market offers plum wines of Japanese, Chinese and German origin, while the market share of plum wine in Russia is less than 1 percent. According to research carried out by the St. Petersburg Club of Alcohol Market Professionals, the market share of both fruit and grape wine in Russia amounted to 7.5 percent over the period between January and October 2003.
Rubin's management thinks that the bottling and production of fruit wines in general - and plum wines in particular - have good prospects in Russia, mainly due to the fact that locally produced grape wines are usually of poor quality. Igor Zavyalov, Rubin commercial director, said that the factory might consider shifting the main emphasis of wine production from grape to fruit wines in the next few years. "We've already purchased next year's crop of plums in Uzbekistan," he added.
News source: www.sptimes.ru


Print this news
---
Business news archive for 08 January' 2004.
Business news archive for January' 2004.
Business news archive for 2004 year.