Business news
Finnjet Vessel Sails En Route to Rostock
06.25.2004 12:19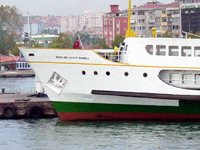 The route will operate all year round. The journey between St. Petersburg and Tallinn takes about 14 hours, and the trip from Tallinn to Rostock takes another 2 hours.
Silja Line has invested 15 million euros in the St. Petersburg route project, which took two years to take shape. Another 2 million euros will be put into business expansion and marketing.
Pekka Helin, senior vice president of Silja Line's passenger services, said the company expects to carry between 1,000 and 1,300 passengers on each trip between Rostock and St. Petersburg.
"From the Russian market we are expecting an annual volume of 30,000 to 40,000 passengers in the future, but of course the first years will need more market building," Helin said in an interview with The St. Petersburg Times.
The company pins their expectations on the German market, where Silja Line is well established and holds a strong position. "We have chosen to start with Germany because they know Finnjet very well and also have a great interest in Russia," Helin said.
Russia is perceived as a potentially booming market. Some 200,000 Russian passengers travel with Silja Line on various routes every year. The Helsinki-Stockholm and Helsinki-Turku routes are particularly popular.
"We know the Finnish and Swedish markets very well, and there is a strong demand for ferry travel there," Helin said. "We consider that the Russian market demonstrates similar trends, especially now that average Russians are becoming wealthier and have more money to spend on leisure activities."
Silja Line first decided to bring Finnjet to St. Petersburg in 2002 but back then the vessel, made in 1977, required modifications to be able to navigate local waters.
"The channel leading to the city is very narrow and rather shallow," Helin said. "We had to examine
it to see what changes should be done to Finnjet and whether we can afford it."
Vladimir Malik, general director of the sea passenger port welcomed Finnjet with much enthusiasm. "Back in 1995 Russian ferries were going to Helsinki, Stockholm and Germany but now the Russian ferry business is virtually non-existent, so we are thankful our neighbors can fill the niche," he said.
"We have made every effort to improve the infrastructure for the ferry business. Construction of a new modern sea terminal is now underway to be completed in 3 years."
Malik said that 350,000 passengers are expected to travel to St. Petersburg by sea this year.
The next step for Silja Line's expansion in the local market is a two-night cruise to Helsinki, which the company is hoping to launch in the next two years.
A return trip to Rostock costs from 219 euros off-season (mid-October to mid-December) to 304 euros in the high season (mid-June to the end of July) in a budget class cabin holding 4 people,while the same trip in a seaside class cabin for two people costs 925 euros in the high season and 668 off-season.
News source: www.times.spb.ru


Print this news
---
Business news archive for 25 June' 2004.
Business news archive for June' 2004.
Business news archive for 2004 year.