Business news
Ice Cream Companies Attempt Market Development
07.13.2004 12:46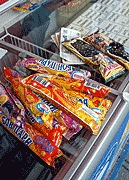 By Sophia Kornienko
STAFF WRITER
Photo by Alexander Belenky / SPT
There are about 300 ice cream manufacturers operating in the country, but few of them are competitive due to the market's high entrance barriers, said Alexander Kudryashev, marketing manager at St. Petersburg's leading ice cream producer Petrokholod.
The multiple small manufacturers across the country lack the finance to invest into the expensive equipment, he said.
In Russia, ice cream is an explicitly seasonal product, Kudryashev said, and manufacturers have to find other products to occupy their output capacity during the cold winter. Compared to an average American, an average Russian eats five times less ice cream per year.
In 2003, 385 tons of ice cream were produced in Russia, which is only 14 thousand tons more than the total volume in 2002, RosBusinessConsulting wrote in June. To help the market develop more dynamically, several of the market's leaders should consolidate the scattered ice cream producers into strong holdings, RosBusinessConsulting reported. The country is going to see such restructuring of the ice cream market very soon, experts say.
The industry's total output capacity across the country amounts to 800 thousand tons of ice cream per year, reported the Russian Union of Ice Cream Manufacturers. The country's leading producers are Russkiy Kholod (9 percent), Inmarko (8.2 percent), Nestle (5.4 percent), Talosto (4.8 percent) and Ice Phili (4.5 percent), the Union reported.
In Kudryashev's estimate, Petrokholod accounts for about 25 percent of the Northwest ice cream market. The three other regional leaders are Talosto and Khladkombinat 1 - literally "Ice Cream Factory No. 1"-- producing ice cream locally, and Nestle, importing from Moscow region. Increasingly popular with St. Petersburg's consumers are Petrozavodsk-based Slavmo and Inmarko, which import products from the Urals.
The national number-one leader Russkiy Kholod does not have a good position in the Northwest, analysts say.
LATEST HITS
The key to secure your position in this market is constant diversification of the products, Kudryashev said. Because companies can lead in one type of ice cream and fall behind in another, it is difficult to define their market shares, Kudryashev said, adding that Petrokholod's hit is chocolate-coated round ice cream bars, such as the classic Dasha and Mitya brands.
Besides endless brand diversification, local companies follow different priorities in business strategies. For example, Talosto, the Volkhov-based manufacturer of Zolotoy Slitok and Oasis bars, is investing heavily in advertisement.
In 2004 alone, Talosto invested $1 million into developing new sorts of ice cream this summer season. Among the company's recent innovations are Ego Ice "for eating at home," frozen yogurt, which is a novelty to the Russian tongue, and Mini Bikini - a pack of petit chocolate coated caramel cream bars.
Talosto produces 3,000 tons of ice cream per month, which makes the company the largest manufacturer in the country. The company's supplements its ice cream manufacturing with a big pelemeni production line, and other frozen foods.
Meanwhile Petrokholod, based at a 1946 former state-owned ice cream factory, keeps to the more traditional, but also the more natural recipes. "We use only cow fats, not coconut or other fats," Kudryashev said.
GENETICALLY MODIFIED?
In May, Talosto Products and Ice Phili were included in a list of 127 companies accused by Greenpeace Russia of possibly using genetically modified (GM) ingredients in the organization's new consumer handbook. "The list only reflects the policy the company follows in terms of GM ingredients, but it does not guarantee the presence or absence of those ingredients in the company's products," Greenpeace representatives told Gazeta.
At Talosto, they say the information on GM ingredients is false. "We made an official statement on the absence of GM ingredients in our products back in February, and we did provide the information on the controlling authorities and the additional checks initiated after the first accusations against us had appeared in the media. We are ready to certify again that our company does not use GM ingredients," Talosto's representative said.
"Until Russia develops a reliable system to control the use of GM ingredients in food products, the consumers literally won't know what they are eating," said Greenpeace project coordinator, Natalia Oliferenko.
However, many Russians don't only neglect the conflicts around the new ingredients, but even the amount of consumed calories. The most popular types of ice cream in Russia remain the ones with the highest fat content - from 10 to 15 percent.
ice cream was not always fatty. It was prepared from snow and fruit juices by the Chinese, who invented the product 5,000 years ago. For centuries afterwards, ice cream remained a luxury for the nobles. It became a mass product only in 18th century America.
In today's Russia, ice cream is most affordable in the cash-and-carry giant superstores and discount shops. Street vendors charge 25 percent more.
NEWCOMERS
Russia's shaping ice cream market has much room for newcomers, and foreign companies, such as Unilever, have already showed interest in the country.
"Unilever can easily purchase a couple of Russian companies and begin expanding to the local market," Alexander Saulin, marketing director at Russkiy Kholod told RosBusinessConsulting. "Russkiy Kholod would naturally form the tastiest bite for Unilever, but we are not prepared to sell our business," Saulin said.
In Saulin's opinion ice cream manufacturers will resume negotiating merger deals after the summer season is over, but those negotiations are likely to concern purchases, not partnerships.
"Many ice cream factories today resemble debutantes looking for a sugar-daddy, but most of them are pricing themselves too high," Saulin said.
Meanwhile Petrokholod's Kudryashev says the potential newcomers are halted by Russia's still unpredictable political environment. "Unilever and other western players are going to wait until the next round of presidential elections, to see what happens after Putin's current term is over. It does not make sense to enter the market for only three years," Kudryashev said.
News source: www.times.spb.ru


Print this news
---
Business news archive for 13 July' 2004.
Business news archive for July' 2004.
Business news archive for 2004 year.