Business news
St. Petersburg Team Building Their Own 'Family'
07.29.2004 11:50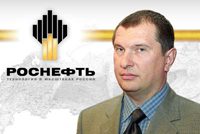 Dmitry Koptev
Gazeta.Ru
On Tuesday the board of directors of the fully state-owned Rosneft oil company elected Igor Sechin, deputy head of the presidential administration, as its chairman. Sechin replaces former Energy Minister Igor Yusufov, who in turn replaced German Gref, the minister for economic development and trade.
Government officials — chairman of the Federal Energy Agency Sergei Oganesyan and acting deputy chief of the Federal Property Management Agency Yuri Medvedev — were appointed deputy board chairmen of Rosneft.
Igor Sechin has long been mooted as a possible candidate for the top post in Rosneft. His election to the board on 25 June, when the company's shareholder meeting named the new board, further convinced observers that his appointment as the board chairman was predetermined. Such a scenario seemed quite logical given that the government holds a 100 percent stake in Rosneft.
Stanislav Belkovsky, president of the National Strategy Institute think-tank, said the shareholders' decision amounted to the beginning of a new stage in the re-distribution of Yukos' assets.
In his opinion, Sechin is likely to win the Yukos case, since "the deputy head of the administration's call for creating a holding on the basis of Rosneft and Gazprom which would take over about half of all the Yukos assets" has, to all intents and purposes, been heeded. "As regards Yukos itself, most likely, it will not be declared bankrupt, and thus the president's promise [to deliver it from insolvency] will be fulfilled".
In the opinion of Stanislav Belkovsky, Mr. Sechin will personally take the top post in the new holding.
"From the economic standpoint, setting up such a holding is sheer absurdity," holds Marina Lukashova, an analyst with Finam Investment Company. "Gazprom, as it is, is quite an ineffective company; Rosneft cannot boast any high yields either. Merging them, and with Yukos' assets added, means setting up a monster that would be virtually impossible to manage."
At the same time, such a scenario cannot be altogether ruled out. "I would not rule out such an odious development," Lukashova told Gazeta.Ru. "When at a conference a year ago one of the participants began talking of possible nationalization, some of the delegates walked out of the hall. Today his words are being seen as a prophecy."
Stanislav Kleshchev, head of the analytical department at Financial Bridge Investment, still believes that Yukos' assets will be taken over not by Rosneft, but by Surgutneftegaz, which has a considerable amount of cash available. He assumes that Yuganskneftegaz, Yukos' core production unit that the state froze earlier this month and which it said it would sell to cover Yukos' multi-billion back tax bills, will exceed the $1.75 billion that Yukos fears it may be sold for.
However, says Stanislav Kleshchev, this does not mean that the state would lose control over those assets.
Rosneft, Gazprom and Surgutneftegaz oversee projects developing the natural resources of Siberia and the Far East. In the analyst's opinion, such cooperation clearly proves that Surgut owners have a close relationship with the government.
Igor Sechin's election as Rosneft chairman sends a negative signal to the markets, the analysts are convinced.
"Igor Sechin, as far as we know, is not versed in economics in general and in the oil and gas sector in particular," holds Marina Lukashova of Finam. "His election to that post proves that Rosneft, which has also been developing outside the normal market practices, will continue to be guided not by economic motives but by political motives, on the basis of the administrative resource."
"We see this appointment as the advent of a new generation of state officials to the top jobs in the economy," Stanislav Kleshchev told Gazeta.Ru. "This of course is not the 'Family' of the Boris Yeltsin era. But there is already a certain resemblance."
News source: mosnews.com


Print this news
---
Business news archive for 29 July' 2004.
Business news archive for July' 2004.
Business news archive for 2004 year.