Business news
Everlast Worldwide Inc. Expands Presence in Russia
08.02.2004 11:46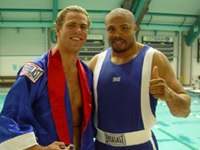 NEW YORK, July 30 /PRNewswire-FirstCall/ -- Everlast Worldwide Inc. (Nasdaq: EVST - News), manufacturer, marketer and licensor of sporting goods and apparel under the Everlast brand name, today announced the signing of another licensing agreement with Sparta Ltd., a sporting goods and apparel manufacturer and distributor based in St. Petersburg, Russia. Sparta will expand its Everlast products to include men's, women's, and children's apparel, in addition to its current line of retail boxing equipment. The Everlast line of apparel produced by Sparta will be distributed throughout Russia and sold through the same sporting goods outlets and better department stores that sell the Everlast boxing equipment.
George Q Horowitz, chairman and CEO of Everlast Worldwide Inc., remarked, "This additional agreement with Sparta is a natural expansion for Everlast given the success that Sparta has enjoyed to date with retail boxing equipment. In the short six months that Sparta has been a licensee for boxing equipment in Russia, customers have quickly come to appreciate what the Everlast brand stands for -- quality and durability. Given the interest in Western culture, we believe that Sparta's Everlast apparel products will be very well received by Russian consumers."
Konstantin Jung, managing director of Sparta Ltd., said, "We are proud to represent such a renowned brand like Everlast and to have the opportunity to grow the brand in Russia. If the demand for our Everlast equipment in the last few months is any indication, our Everlast apparel will be a success as well."
Mr. Horowitz concluded, "Our efforts in expanding internationally are reinforced by the growing demand for Everlast products in yet another budding global region. We will continue to position Everlast in strategic parts of the world to heighten brand awareness and to capitalize on growth opportunities."
About Everlast Worldwide Inc.
Everlast Worldwide Inc. manufactures, markets and licenses sporting goods and apparel products under the Everlast brand name. Since 1910, Everlast has been the preeminent brand in the world of boxing and is among the most dominant brands in the overall sporting goods and apparel industries. Over the past 94 years, Everlast products have become the "Choice of Champions(TM)", having been used for training and professional fights by many of the biggest names in the sport. Everlast is the market leader in nearly all of its product categories, responsible for leading eight of the top ten boxing equipment products in sales. Through its apparel division, Everlast men's and women's active wear products are sold to over 20,000 retail locations throughout the United States and Canada, including a variety of department stores, specialty stores, catalog operations and better mass merchandisers. In addition to producing and marketing the equipment and accessories, Everlast Worldwide Inc. licenses its brand to providers of men's and women's sportswear and active wear, children's wear, footwear, watches, cardiovascular exercise equipment, fragrances and grooming products, nutritional products, and gym/duffel bags. At the retail level, Everlast's products generate over $600 million in revenues. The company's Web site can be found at http://www.everlast.com.
This release contains forward-looking statements that involve risks and uncertainties. The Company's actual results could differ materially from those anticipated in these forward-looking statements. Factors that may cause such differences include, but are not limited to, the Company's expansion into new markets, competition, technological advances and availability of managerial personnel.
News source: biz.yahoo.com


Print this news
---
Business news archive for 02 August' 2004.
Business news archive for August' 2004.
Business news archive for 2004 year.