Business news
Sela Founder Says Honesty and Active Living Pay
08.17.2004 12:23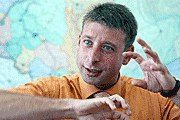 ST PETERSBURG TIMES
By Irina Titova
STAFF WRITER
Photo by ALEXANDER BELENKY / SPT
A businessman should be honest about his goals in order to succeed, says Arkady Pekarevsky, the co-owner and vice president of the popular clothes store chain Sela.
"I am convinced that in order to be successful, a businessman should be sincere, and honestly express his position and the final goals. [Business] shouldn't be run through a set of complicated intrigues, because people are smart and feel when someone is trying to deceive them," he said.
Pekarevsky's goals became clear in the early 1990s, when he and cousin Boris Ostobrod founded Sela with the idea that purchasing clothes should be a "holiday" for people. "We always wanted to have a brand which would raise people's mood while providing affordable goods," Pekarevsky said.
Pekarevsky and Ostobrod divided the main business functions, with Ostobrod heading Sela's design office in Israel, and Pekarevsky going on to supervise Sela's sales throughout Russia and the CIS countries. The chain has been developing very successfully, with over 300 stores opened sporting the joyfully green Sela signboards.
For 38-year-old Pekarevsky, looking cheerful in a bright orange Sela-style shirt, the chain was a long way from his first business activities in high school during the Soviet Union stagnation era of the early 80s.
Pekarevsky, 16 years old at the time, sold watermelons and Christmas trees, later running a photography service.
"Progressive youth usually come from poor families," said Pekarevsky, whose mother worked as a seamstress and father as a factory worker.
"We never had a lot of money. And my mother always had to take additional orders to make clothes at home. In that situation I had to work," Pekarevsky said.
Pekarevsky said one of the most physically stressful temporary jobs that he had was to sell Christmas trees in the street in December.
"At night I worked as a watchman for those Christmas trees. It was cold, and I would sometimes hide in an entrance hall of a neighboring apartment building. Though sometimes I just took little naps right on the Christmas trees piled up outside" he said.
In 1985 when Pekarevsky was a student of the St. Petersburg Mining Institute, he and Ostobrod opened the first photo cooperative in the city called Blik or Speck, which was very successful for a while.
The idea of Sela came from a desire to create a brand name clothes chain where people could buy not very expensive but good quality casual clothes of bright colors, Pekarevsky said.
Pekarevsky said one of the media sources that did a story about Sela nicknamed it a "Sewing McDonalds."
"In a way I'd agree with that description. Our stores were also planned to have a festive atmosphere, to provide a quick and effective service, and not to price items too high," he said.
Sela is also quite an international company. The brand's designs come from the company's Israeli office, headed by Ostobrod, the president of Sela Corporation. The clothes production takes place in China, where "an enormous team of Sela's employees exercise very strict quality control," Pekarevsky said.
So far Sela sells its product only in Russia and a number of former Soviet republics, though it plans to open stores in Europe and elsewhere in the world in the future, Pekarevsky said.
"We sell bright clothes for people who lead an active life, and who have a young soul," he said.
Pekarevsky keeps his life bright through a number of different hobbies. He plays sports and likes to travel to unusual places.
Two years ago he spent a week at Shoaling, and he recently went to Tibet. "I was just deeply interested to see how people live there, what wisdom they have," he said.
"Such trips and experience help me be much more philosophical about the problems that accompany the life of a businessman," Pekarevsky said.
Pekarevsky said that he learned a lot about communications from Dale Carnegie's books.
Vladimir Denisov, general director of department store Kupchinsky, which has a Sela section, said Pekarevsky's communication skills and hard work have always impressed him.
"In a short period of time Pekarevsky and Ostobrod managed to develop a very successful business, and it was thanks to their industrious nature. As for Arkady, he has an excellent ability to find a common language and understanding with anyone, which is very important for a businessman," Denisov said.
News source: times.spb.ru


Print this news
---
Business news archive for 17 August' 2004.
Business news archive for August' 2004.
Business news archive for 2004 year.