Business news
Short-lived Rows Hamper Russian-Estonian Business
08.24.2004 13:22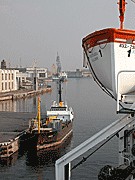 St Petersburg Times
By Sophia Kornienko
Staff Writer
Photo by Evgeny Golomolzin / For SPT
This is the fourth in a series of special sections called Northern Neighbors, to be published monthly in The St. Petersburg Times. Northern Neighbors focuses on economic and cultural relations between Russia and the Scandinavian and Baltic nations.
Though Russia occupies a stable position in the fast growing Estonian economy among the country's top ten trade partners, the number of Russian-Estonian investment projects remains low, statistics show.
"I have a feeling Estonians are experiencing an inner yearning to treat Russia negatively," Indrek Neivelt, the head of Estonia's largest bank, Hansapank, told newspaper MK Estonia this month. It is Estonians who are creating the gloomy picture of the Russian economy, Neivelt noted. "Newspapers are mostly running negative stories on Russia," Neivelt said.
When asked to name the main factor hampering business contacts between Russia and Estonia, Neivelt referred to continuous short-lived political problems between the countries. "If we [Estonian businesses] leave Russia today, it would make as much sense as if we had left Latvia after the 'herring war'," Neivelt said, alluding to the several loud but quickly resolved conflicts between Estonia and Latvia in the mid-90s over fishing territories in the Baltic Sea.
Estonian businesses must choose a specific niche to occupy in Russia, Neivelt said. "I would not considere the whole of Russia here, but focus on the Pskov and Novgorod regions, the Leningrad Oblast and Moscow," he added.
There are practically no Estonian businessmen residing in St. Petersburg today, said Ruta Rannala, a representative of Estonian enterprise development agency in St. Petersburg. The main complaints coming from Estonian businessmen regarding working in Russia concern the excessive number of controlling and approving authorities, whose activities are not transparent, Rannala said.
However, Rannala said, since the economy in the Russian Northwest is growing, and private consumption is going up, the region may present some good potential. "We expect a tentative growth of interest in the region on behalf of Estonian businesses," Rannala said.
The number of investment projects generated will fully depend upon the ability of the Russian federal government to liberalize Russia's business climate for its foreign partners, Rannala said. Better passenger links, especially by air, should also help to attract Estonian companies to Russia, Rannala said. More Estonian construction companies should be invited to take part in restoration and construction projects in the Northwest, she added.
Estonia mainly imports wood and mineral consumables from Russia. The country's exports to Russia are food products, textiles and construction materials. The Northwest is also an important region for Estonian ports, cargo carriers and logistics centers, Rannala said.
RISKING IT
One of the Estonian companies successfully working in Russia is Irest Ehitusjuhtimise, a construction company that will build two supermarkets in St. Petersburg. The company will construct a 8,700 square meters Pyatyorochka, worth $5.6 millions, by next summer, Rein Kiudsoo, general manager of Irest Ehitusjuhtimise, said in an interview from Tallinn Monday. The second supermarket, 37,000 square meters, will belong to the O'Kay chain and will open next autumn. The Estonian company will be in charge of partial supermarket and road construction works, worth a total of $17 million.
Kiudsoo said the potential of business cooperation between Estonia and the Russian Northwest lies mainly in construction and food processing and only about 10 percent of this potential has been realized. Estonian businessmen don't come to Russia because they fear big risks, Kuidsoo said. He added, however, that he knows of about 40 Estonian businessmen residing in the city.
Kiudsoo said his Estonian colleagues in Russia often complain of the country's "non-European business practices of not keeping promises and terms of contracts."
Irest Ehitusjuhtimise already completed three other construction projects in St. Petersburg - the offices for Baltnefteprovod and Lukoil and another O'Kay supermarket. The company's revenues in 2003 reached $7.5 million, with total profits of $55,000, Regnum information agency reported this month.
After one and a half years of negotiations, another Estonian company, concrete manufacturer E-Betoonelement, registered a joint venture with one of the city's leading construction companies M-Industry last month. The joint venture will be making technologically advanced products from reinforced concrete in Tosno, Leningrad Oblast. Start-up investments will amount to 10 million euros, reported Business News Agency. Production will be launched in mid-autumn this year at the total capacity of 100 square meters per year. The products will be designed for the construction of large supermarkets. Both sides also plan to manufacture parts for Scandinavian-style houses that M-Industry will be building in St. Petersburg.
Transportation company Tallink, with about 57 percent of Estonian capital, launched its ferry route between Tallinn and St. Petersburg in April, with the company's Fantaasia ship running every other day. "It is too early to say how successful this project is, but we see a very big potential. Every route takes time to become profitable, and profitability arrives when travelling by ship seems as natural as riding the metro," Marek Magi, financial manager of investor relations at Tallink Grupp said in an interview from Tallinn Monday.
St. Petersburg's tourism infrastructure is underdeveloped, Magi said. Meanwhile, he added, tourism is the biggest area for cooperation between St. Petersburg and Estonia.
When asked what is stopping Estonian businesses from entering the Russian market, Magi said the market is simply too big for most small Estonian companies. "In some areas, we still have double customs duties. Besides, to several Estonian companies, the Russian financial crisis of 1998 was quite a stab in the back," Magi said.
RUSSIAN PLAYERS
In 2003 - 2004, Estonian statistical office reported, Russia's biggest federal direct investments into Estonia were the coal terminal in Muuga - a 55 million euro project, carried out by the Russian Kuzbasrazrezugol, and a rail carriage assembly plant in Ahtme - a 10 million euro project by Uralvagonzavod.
Estonian business daily Deloviye Vedomosti touted the Ahtme project as being a successful precedent of a Russian business' resolving Estonia's high job turnover problem. This month, Uralvagonzavod constructed the first of three large apartment blocks in Ahtme to accommodate the plant's workers.
By investing so much money and effort into training the workers on the spot, the Russian company is making sure the workers won't leave right away. It will only be possible to gain private ownership of each new apartment after 15 years of work at the plant.
Despite the low unemployment rate of nine percent, Estonia is experiencing a severe shortage of skilled workers, due to low wages and the lack of vocational school and university graduates for some professions.
After Estonia joined the E.U. in May, many of the country's specialists, including bus drivers, doctors, nurses, teachers and construction workers went West in search of better salaries. Every month, over 100 construction workers leave Estonia for Finland, Sweden and Germany.
According to the law on foreign workforce, issued this year, workers from outside the E.U. can come and work in Estonia for six months without any residence or work permits required, which can help promote Russian construction projects.
News source: times.spb.ru


Print this news
---
Business news archive for 24 August' 2004.
Business news archive for August' 2004.
Business news archive for 2004 year.