Business news
Finnish Clothes Stay in Vogue
08.30.2004 13:10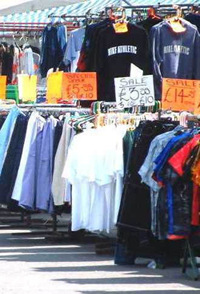 St Petersburg Times
By Sophia Kornienko
Staff Writer
Over a decade after Finland became an easily accessible destination for many St. Petersburg residents, the demand for Finnish clothing continues to boom in the city, with St. Petersburg dealers being among the leading purchasers at the Helsinki International Fashion Fair held last weekend.
Over 400 Russian companies dealing in ready-made garments regularly make purchases at the HIFF, held in Helsinki twice a year to present the winter collection at the end of August and the summer collection at the end of January. And up to 80 percent of the Russian dealers visiting the HIFF come from St. Petersburg, Olga Ekstrem, project manager at Suomen Messut, the Helsinki Fair Center, told Delovoi Peterburg on Tuesday.
A total of 326 manufacturing companies from 14 countries were represented at this month's HIFF, selling garments, textiles, shoes and accessories. Meanwhile the St. Petersburg companies, who have tried selling Russian-made clothing at the previous fairs, quickly realized that buying Finnish clothing is much more profitable, Delovoi Petersburg wrote.
Finland's textile exports to Russia in 2003 amounted to 70.4 million euros, including 45.2 million euros worth of ready-made clothing. Based on a recent marketing research, Delovoi Peterburg said, Russia is the leading importer of Finnish clothing, with St. Petersburg's share reaching 40 percent.
Olga Bobrikova, marketing chief at Moskovsky Univermag, one of the city's leading department stores said that St. Petersburg developed its profound affection for Finnish clothing back in the Soviet times, when Russians ran themselves ragged in their efforts to find quality garments.
Bobrikova said the reasons for the popularity of Finnish garments in St. Petersburg are simple, the most important of them being the quality of the garments. Finnish manufacturers heavily invest into environmentally friendly technologies, she said, and while hardly any of today's modern fabrics are 100 percent natural, Finnish fabrics are constructed in such a way that synthetic threads are hidden inside and do not come in contact with skin, Bobrikova said.
"We have been working with the same Finnish producers for years, and they come up with technological innovations every season," Bobrikova said.
The secret to the success of Finnish clothing manufacturers is the unique niche they've managed to secure. The exported Finnish garments are mainly designed for leisure activities and that helps such Finnish brands as Luhta, Rukka and Skila to avoid overlapping with other major garment exporters, such as Italy, in the target market, Bobrikova said.
Besides the focus on the environmentally friendly active lifestyle, Finnish manufacturers pay extra attention to children's garments.
Such kids' brands as Kuoma and Reima, designed for a northern climate, sell very well in St. Petersburg, Bobrikova said.
Finnish clothing makes up a large part of Moskovsky 's collection and the store sends a whole delegation to make purchases at the HIFF on a regular basis, Bobrikova said. "We have already compiled our Finnish collection for the spring-summer 2005 season," she added.
Meanwhile, it is designer prét-a-porté clothes that still remain the all-times favorites among the Russian women, not the casual leisure wear. By the estimate of international experts, the amount of ready-to-wear clothing in Moscow is annually growing by 30 to 50 percent, reported the Intermoda.ru fashion portal in the spring.
As opposed to many westerners, Russian women prefer stunning outfits to simple casuals, so many Western designers of pret-a-porte hope to expand to Russia, Intermoda.ru wrote.
Russian PR specialists who met at the "Image Making 2004" symposium held in Moscow in May, said that one of the drawbacks in Russia's image today is that Russians continue to have a soft spot for everything imported, RosBusinessConsulting reported.
News source: www.sptimes.ru


Print this news
---
Business news archive for 30 August' 2004.
Business news archive for August' 2004.
Business news archive for 2004 year.