Business news
Strike Slows Metals Exports From St. Petersburg
09.02.2004 11:51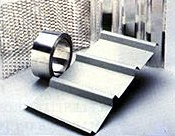 London- Metal shipments from St. Petersburg are being delayed because of industrial action, metal traders and shipping agents said Wednesday, though stevedoring companies denied any slowdown.
"There is some kind of go-slow going on in St. Petersburg. I think it's mostly affecting aluminum shipments," one European physical aluminum trader said.
"Delays seem to be about a month long. A lot of metal is being stocked up around there," he said.
Freight shipments began bypassing St. Petersburg for ports in neighboring Baltic states in July, when dockers demanded that the port's new owner, steel major Novolipetsk, increase their salaries.
Novolipetsk, which also bought the port's First, Second and Fourth Stevedoring companies, refused. The standoff has resulted in more than 100 companies, including ship owners and shipping agents, each losing thousands of dollars per day, local business daily Delovoi Peterburg reported last week.
"The port is not willing to compromise with the dockers, and we are experiencing huge losses due to broken terms of delivery. But we can understand the port -- the dockers' wages are already higher than average and cannot be raised," a shipping agent told the paper.
A British trader said Wednesday that a parcel of nickel he had booked through St. Petersburg for arrival mid-August had been delayed by at least two weeks.
"First and Second Stevedoring Companies load and discharge ships in the seaport and at the moment perform their job according to official daily rates -- very slowly," a shipping agency source in St. Petersburg said.
However, the stevedoring companies denied there had been delays in metals exports.
"We load planned cargos of aluminum, there have been no delays nor lower volumes," said the executive director of the First Stevedoring Co. at the port, Vladimir Krasheninnikov.
"We have loaded all [aluminum and nickel] we planned for July and August and we expect to load all the metal in accordance with the plan in September," said Stanislav Zhemchuzhin, deputy director of the Second Stevedoring Co.
A second European trader said he doubted delays were as long as a month.
"A month's delay is equivalent to about 150,000 tons of metal. There have seen some slowdowns, but they are not problematic," he said.
Novolipetsk was not immediately available for comment.
The port loaded 768,000 tons of non-ferrous metals in the first seven months of 2004 versus 901,800 in the same period last year.
(MT, Reuters)
News source: www.themoscowtimes.com


Print this news
---
Business news archive for 02 September' 2004.
Business news archive for September' 2004.
Business news archive for 2004 year.