Business news
Finnish Consulate Bans Insurance Operators
09.09.2004 14:43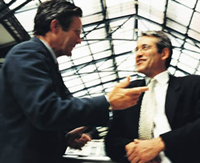 St Petersburg Times
By Vladimir Kovalev
Staff Writer
A crackdown by the Finnish Consulate in St. Petersburg on travel insurance companies has been met with a mixed response, local media reported last week.
Crowds of insurance agents hover around the entrance to the visa section of the Finnish Consulate, selling travel insurance and other allegedly dubious "visa services," have long made it difficult for pedestrians to traverse the section of Prospekt Chernishevskogo opposite Chernishevskaya metro.
In a bid to restore order outside their premises, the Finnish Consulate cracked down on the insurance companies in question, removing their accreditation to work with the consulate.
In mid-August, RESO Garantiya became the first insurance company to have its accreditation revoked. In the following weeks, eight more companies - including the well-known Rus, Russky Mir and Doveriye companies - also lost their accreditation.
These companies were first warned in June, when letters outlining specific conditions were sent out to the 73 insurance operators accredited to the consulate, web site Fontanka.ru quoted Yuha Virtenen, Finnish vice consul general, as saying last week.
But, the warning did not have much effect, the web site reported, saying that while Virtanen did not disclose the full list of companies that have lost or will loose their accreditation, that the consulate will not back down on this issue.
The consulate's campaign began after it received reports that a large number of these insurance agents were representing themselves as consulate employees, selling visa application forms that were free inside the consulate, and even selling front-line spots in the queue to get into the visa section, the web site reported.
The consulate declined to comment on the issue on Friday.
However Konstantin Kudryavtsev, the deputy director of insurance firm RESO Garantiya said that he did not understand the consulate's crackdown.
"They have deprived the most important insurance companies of accreditation," he said in a telephone interview last week.
"The consulate demanded that our operators cannot not hang around the consulate," he said, adding that it had been reported that agents were selling [visa] invitations of some kind.
"They also said agents were helping to fill in application forms. And, I don't see what's wrong with that," Kudryavtsev added
"The consulate demanded that we don't sell our policies near their premises, but they didn't clarify whether 'near' meant a meter of a kilometer," he said.
News source: times.spb.ru


Print this news
---
Business news archive for 09 September' 2004.
Business news archive for September' 2004.
Business news archive for 2004 year.