Business news
Deal Ends Dockers' Strike at Seaport
09.14.2004 15:28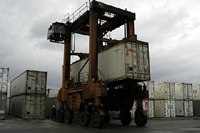 By Sveta Skibinsky
Staff Write
Photo by Alexander Belenky / SPT
The St. Petersburg Seaport joint-stock company and the port committee of the dockers' trade union signed a one-year agreement Friday, ending a two-month standoff that has been paralyzing the port's activities.
The agreement, signed by the dockers with the seaport's First and Second Stevedoring, or cargo-transporting companies, said that, "the employer will secure the dockers' average monthly salary ... under the condition that the monthly overtime unload norms are completed." This means the dockers will be guaranteed a minimum salary of 26,000 rubles ($900) if they outperform the daily norm by 30 percent, explained a representative from the dockers' trade union.
The agreement has been extended for one year, during which time the trade union hopes to continue negotiations with the port's owner - the steel major Novolipetsk - the representative said. The trade union is demanding that the owner indexes dockers' salaries to match inflation.
The dockers have been refusing to work overtime since early July, and though they have completed their stated daily norms, cargo transportation has been proceeding very slowly. The Oktyabrskaya rail road and the port's warehouses have reported being over stacked with cargo.
There is a need for overtime during seasonal cargo-volume growth, and it is in the interest of all transportation stakeholders, said a port press release which announced the agreement on Friday.
The standoff had mainly affected the First and Second Stevedoring companies, which are responsible for the port's metals transportation. Major shipment delays have been reported by metal traders and shipping agents both in Russia and in Europe.
The delays have led some companies to start bypassing the St. Petersburg port, sending their freight shipments to ports in the Baltic States instead.
The First and Second Stevedoring companies, however, denied that there had been any slowdown in the port's activities and, in fact, reported 20 percent growth instead, news agency Fontanka.ru reported.
The standoff is estimated to have caused monetary losses of between $6 million and $10 million. More than 100 companies, including ship owners and shipping agents, have been losing thousands of dollars a day.
The agreement should allow for negotiations to continue without interrupting the work flow, the port's statement said.
Similar agreements have been reached with the dockers by the Third and Fourth Stevedoring companies, though official documents have not been signed yet, Fontanka.ru reported Monday.
News source: times.spb.ru


Print this news
---
Business news archive for 14 September' 2004.
Business news archive for September' 2004.
Business news archive for 2004 year.