Business news
Officials Propose Tax Cuts for Big Investors
09.23.2004 13:42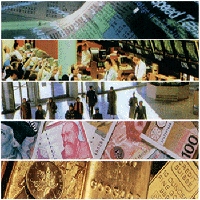 St Petersburg Times
By Irina Titova and Sveta Skibinsky
Staff Writers
St. Petersburg's investment climate and living standards are improving and the city government is eager to cooperate with foreign investors, city government officials said Friday.
They were speaking at the International Forum on Russian Economic Development in St. Petersburg which focused on U.S.-Russian economic relations in informational technology and other investment spheres. Former U.S. vice presidential nominee Albert Gore was a speaker.
Governor Valentina Matviyenko said she welcomes foreign investment in the city and vowed that St. Petersburgers will have a better standard of living by 2010.
"By 2010, the living standard of St. Petersburgers will grow significantly," Matviyenko said.
St. Petersburg is the second largest retail market in Russia, she said, with retail turnover in the first half of this year totaling $3.6 billion, more than the total for the whole of last year.
Vice governor Mikhail Oseyevsky said foreign investment in the city will grow by 21 percent to 29 percent this year.
"We received a total of about $700 million in foreign investments in the city last year, but this year we are planning to near the $850-$900 million mark," Interfax cited Oseyevsky as saying.
While much of these investments come from Western credits and loans, "the volume of direct investments [in the city] is also growing," he said.
The city government "is talking with a number of international companies about setting up manufacturing facilities in St. Petersburg," he added.
Smolny is proposing a number of tax concessions to attract potential investors. The tax incentives law draft includes a 50-percent property tax cut for three years starting from January 2006 to any company that invests more than 150 million rubles or about $49 million into St. Petersburg during 2005, he said.
The incentives plan also includes a 2 percent revenue tax cut to such investors and a 4 percent revenue tax cut to those companies whose investments exceed 300 million rubles, Oseyevsky said.
When asked what he thinks about the city's initiative, Deloitte & Touche's tax and legal expert Artyom Vasyutin said that although it's good to see the administration willing to cooperate, the eligibility threshold for such concessions is rather high, which may exclude small and medium-sized companies.
"Moreover, the additional administrative burden and actual insignificance of such concessions in comparison with general rates may discourage investors from their use," he said.
Matviyenko said the stability of the Northwest region and the tax privileges and concessions for "our main investors" have a positive influence on the investment climate in St. Petersburg.
"St. Petersburg is a profitable destination for investors," she said. "It is also because our final goal is to make the city one with a European standard of living."
Anton Mamayev, head of the St. Petersburg branch of Troika Dialog consulting company, agreed with the statement that St. Petersburg is very attractive for foreign investors.
"St. Petersburg has many production projects - both big and small ones, into which foreign businessmen can invest," Mamayev said.
Among the big projects Mamayev mentioned the construction of the Western Speed Diameter, the new terminal for passenger ferries at Vasilevsky Island, and others.
At the same time, he said, many St. Petersburg scientific institutes are engaged in developing new technologies in such fields as physics and chemistry, in which foreign businesses are interested to invest as well.
News source: times.spb.ru


Print this news
---
Business news archive for 23 September' 2004.
Business news archive for September' 2004.
Business news archive for 2004 year.