Business news
Honey, I Brought Back The Mead
10.05.2004 13:47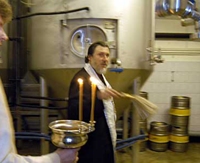 By Angelina Davydova
Special to The St. Petersburg Times
Photo by Alexander Belenky / SPT
Traditional Russian honey-based alcoholic beverages are being revived in St. Petersburg with the Institute of Honey-Brewing (Institute Medovareniya) which has started a new production of mead and apple cider, and is planning to launch other almost forgotten strong alcoholic drinks, such as shibach and medvyack.
In fact, traditional Russian drinking - that which can be found in fables and fairytales - revolved around honey-based light and strong alcoholic drinks with various herbs, rather than the popular staples of drinkers today: beer and vodka.
Most of these traditional drinks ceased to be produced shortly after the October revolution and are only now re-appearing. With the beer market almost saturated, it seems that alcohol-producers are eager to look out for new products to attract customers' attention.
The Tsarskoye Selo-based Honey-Brewing Institute first tried to reconstruct the formulae of mead beverages in 1997, which led to the creation of the company "Khlebnoe" (from the word "khlyebnoe" - "slurping").
The financial crisis of '98 slowed down the company's plans, but a few years later "Khlebnoye" started production of mead in Tsarskoye Selo. Recently, it acquired yet another production facility in the center of St. Petersburg from the micro-brewery Tinkoff.
This is the first large-scale mead production in Russia since the World War I.
Besides "Khlebnoye" there are only a few producers, mainly local or restaurant-based, in Novgorod and Suzdal.
According to "Khlebnoe" president Alexei Dolzhenko, the company currently produces 100,000 bottles (0.33 liters) per month at its Pushkin facility, and 350,000 bottles per month at its St. Petersburg facility.
Yet another 20,000 liters per month of draft mead (which is distributed to a network of cafés, restaurants and blini stalls) is made at the company's Kolpino production facility.
In the next few months mead production will be relocated to St. Petersburg, while the Pushkin facility will specialize in cider, and, most likely, new strong alcohol honey-based beverages.
The St. Petersburg facility has the capacity to produce up to 700,000-800,000 bottles per month, depending on market demands, the company said.
"Khlebnoye" has a turnover of 4 million rubles per month ($1.6 million per year) at the moment. When production reaches full capacity, this will increase to $10 million per year. So far, $750,000 has been invested in the expansion.
Larisa Kotenko, the company's spokesperson, says that the main ingredient - honey - is supplied by a Volgograd-based farm.
The shelf life of mead and apple cider is four months, since neither contains preserving agents or is pasteurized.
Two types of honey-based beverages (brand names "Tsarskoye selo" and "Travyanoi") will be available in shops from Oct. 15 and will cost from 32 to 38 rubles. Apple cider (brand name "Sidorova koza") will be sold from mid-November, at 30 rubles to 36 rubles per bottle.
Dolzhenko says that the Institute of Honey-Brewing conducts ongoing research into strong alcohol mead products such as shibach, made from honey wash, and medvyack, produced from honey using cognac technology.
The company will need yet another license before production of either of those can begin.
Another possible new product, sbiten, a hot honey beverage with herbs, and snacks to complement these beverages are all in the process of development.
According to Dolzhenko, prospects for the future of these "new" traditional drinks are as yet unclear, and this keeps the company from distributing them throughout Russia for the time being.
However, should the market prove receptive, Dolzhenko said he hoped to be either offering franchise schemes to small and medium-sized breweries, or to start mass production in St. Petersburg.
News source: times.spb.ru


Print this news
---
Business news archive for 05 October' 2004.
Business news archive for October' 2004.
Business news archive for 2004 year.