Business news
PricewaterhouseCooper Partner Relaxes After 25 Years
10.07.2004 16:52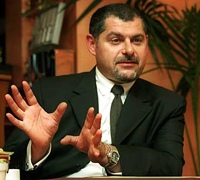 St Petersburg Times
By Sveta Skibinsky
Staff Writer
Photo by Alexander Belenky / SPT
Having worked for PricewaterhouseCoopers for 25 years, Tony Antoniou, a partner and business practice leader at the accounting firm, now opts to take life at a slower pace and enjoys spending time in the two cities he calls home - London and St. Petersburg - although his office is in Moscow.
Born to a family of Cypriot immigrants, Antoniou spent his childhood in Bristol and was educated in London where he graduated with a chemistry degree. He intended to continue scientific research at doctorate level when his career path took a different turn.
"I came into the study room one time and saw my thesis supervisor filling in an application for an accounting training program," said Antoniou. "So I thought - I could either be doing the same two years later, or do it now."
The scientists in England at that time, much like scientists in Russia, were being paid unreasonably little, so a career change from science to business was not uncommon. "It's like the government says: 'if you study science and you like it, then why should we pay you,'" explained Antoniou.
Having impressed his recruiter at the interview, Antoniou was accepted on a three-year accountancy training program with PricewaterhouseCoopers. Upon its completion, he received the equivalent of a CPA qualification. "It was an endurance test as much as anything else," said Antoniou about the long hours and dedication demanded by the program.
While working as an accountant, Antoniou also took the opportunity of temporarily being a financial officer at a hospital - an experience that aided him in the consulting business in Russia later in life.
It was a time of many economic changes as U.K. Prime Minister Margaret Thatcher's put forward reforms aimed to change Socialist institutions to a free-market system.
"Suddenly the organizations that had never dealt with any financial limitations before, had to start watching their accounts," said Antoniou. During the shift, the situation in England's public institutions was akin to Russia during its switch to an open, market economy. Businesses needed to "improvise" in order to adapt with the changes. "We tend to forget that the West wasn't always the way it is. There is nothing new in Russia's situation," said Antoniou.
After finishing his hospital assignment, Antoniou was switched to PWC's public service department, which now counts well over 100 people, but at the time had just six. The move stimulated Antoniou's motivation.
Soon he got the chance to work on PWC projects in Zambia and Zimbabwe, and in October 1992 did some work in Moscow. While completing it, he was advised by friends to visit St. Petersburg for the weekend. "It reminded me of a scene from a movie. I was taking the train to St. Petersburg, watching the platform through a slightly frosted glass. People from all walks of life were bustling to and fro," said Antoniou.
While in St. Petersburg he visited the only local PricewaterhouseCooper's office - a room in the hotel Astoria. It was converted to an office, with cables and phone lines running across beds. The phones, however, were ringing off the hook: the few international companies, such as clothing company Littlewoods, who were brave enough to conduct business in the newly-formed Russian Federation were in need of much help and the kind of competent advice only an international consultant could provide.
"Try it for a year," was the reply Antoniou got from the head office in London when he said that he would like to tap into St. Petersburg for business potential.
As there was little documentation available in English or at all at that time, Antoniou said he once had to get a friend of a friend to photocopy the Russian Customs Code. "Now things are so much easier - you can cut, paste or translate it as you like," he said.
Antoniou and his colleagues consulted with the local professionals for help, some of whom the St. Petersburg PWC branch hired later on. "We started to recruit bright local graduates from city universities such as FinEc (the Finance and Economics Institute)," said Antoniou, When PWC had to downsize in order to cut costs during the financial turmoil of '98 "it hurt to let people go."
Antoniou remembers spending the time of the crisis traveling to Moscow at least once a week and trying to learn Russian. "Russian was hard," admitted Antoniou, who speaks Greek and French. "But I made it a point to not go out with any girls who spoke English," he added.
Frank Graves, the COO of Ilim Pulp Enterprise, said Antoniou has done a great job providing consulting services to his company for about six years. "[Antoniou] has a really good and in-depth understanding of the Russian accounting system and management style, and of course he has a great understanding of Western standards, so he has been helping us find the discrepancies and bridge the two. You have to be a bit of a psychiatrist and a great accountant to do that," said Graves.
When asked about Antoniou's Russian, he said his language skills were excellent. "He works with our staff only in Russian."
In July, after spending 11 years in St. Petersburg, Antoniou moved to Moscow. "I kept waiting to enjoy the benefits of the hard work we did in the 90s. But now, I think I can be of more help in Moscow than here."
"It's been good with Tony heading the PWC office (first Coopers&Lybrand) in the city," said Yelena Berezantseva, executive director of the St. Petersburg American Chamber of Commerce. "I've known him since he first came to Russia, and he's been working very hard over the years. Tony's modest and reserved manner has also helped to make the best impression," said Berezantseva.
When asked about the city development, Antoniou said St. Petersburg is growing slower than one would expect, taking all the city's advantages into consideration. Perhaps that's due to delayed infrastructure and transportation developments still to be put in force.
In Moscow one can sense the energy in the air, said Antoniou. "People from all walks of life come to make it or break it there," he said. "It's like New York in that only the fittest survive."
News source: times.spb.ru


Print this news
---
Business news archive for 07 October' 2004.
Business news archive for October' 2004.
Business news archive for 2004 year.