Business news
Russian retailers to make record presence at MAPIC 2004 in Cannes
10.14.2004 12:59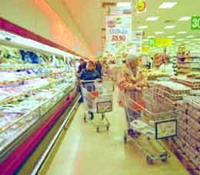 Moscow- International retail real estate exhibition MAPIC 2004 has been getting extraordinary response from Russian realtors and retailers. About 240 Russian companies, including retail chains, property developers and realties specializing in retail real-estate assets, have confirmed their intents to attend the retail showcase in the Palais des Festivals and the Riviera Hall in Cannes on November 17-18.
MAPIC is the world's leading commercial real estate fair and over 50,000 visitors come to the exhibition each year. MAPIC, or the international market for retail real estate, is considered pre-eminent venue for finding investors, partners, franchises and development deals. Other major highlights will include the traditional MAPIC awards, which are presented in an Oscar-like ceremony, to companies and individuals for the best performances and landmark achievements in different aspects of retail business worldwide in 2004.
The expected number of Russian participants at MAPIC 2004 is unprecedented, indicating the growing interest of Russia-based retail moguls in the event. For comparison, only 98 companies participated in the fair last year, or about three times the number of Russian companies expected at the exhibition this year. Traditional Russia-based exhibitors expected at the "retail Oscar show" this year include realtors such as Noble Gibbons, Colliers International, Stiles & Riabokobylko and Jones Lang LaSalle, retain chains such as Perekryostok and Nautilus Trading House, developers such as Garant Invest and LVN Development. Others include Russia-based subsidiaries of transnational retail titans such as Ikea, Naf Naf, Promod and Trevis Jourdain.
Jeff Kersham, director of retail at Noble Gibbons, a regular figure at MAPIC, told TRJ that MAPIC is a great exposition for retailers all over the world. "Russia had a good representation there last year, and we expect more representatives from Russia this year. It's a great advertisement for Russian retail market," he added. MAPIC is a great place for retailers to meet, exchange and share views on the latest trends in the industry, Kersham said. "I will be there this year to present our company's new projects to investors, meet retailers with whom we have [good] business relationships, meet those who are contemplating entry the Russian retail market, and of course, meet colleagues from other retail markets."
The Russia Journal is publishing a special report on Russian retail sector on the eve of MAPIC. "There has been huge demand for news and information on Russian commercial real estate from our subscribers and readers," said Anna Kuznetsova, communications director at The Russia Journal. "We will showcase Russian real estate and retail opportunities in a special edition of our magazine which will be published specially for MAPIC and distributed to every major commercial real estate company in the world."
Russian commercial real estate market is growing at more than 50 percent each year. While Moscow, which accounts for 30 percent of the market share, has a significant number of foreign developers such as Ikea, Ramstore, Auchan and Metro, the rest of the country has yet to receive such attention from global retailers. Consequently, most of regional retail is being done by Russian developers, while very few foreign retailers, including Ikea and Ramstore have ventured beyond russia's two major cities of Moscow and St. Petersburg to open retail outlets in Kazan, Kranoyarsk and other regional hubs.
Experts, however, agree that there is great untapped potential in many Russian cities, and that huge retail development activities are expected in the regions once Moscow and St. Petersburg reach saturation points.
"If foreign developers were seeking advise for Moscow market till last year, the focus has now shifted to other cities like Yekaterinburg, Nizhny Novgorod, Krasnodar and Rostov-on-Don. Of late companies are talking about oil towns such as Tyumen, Surgut and Komi." Says Ajay Goyal of Russia Journal Institute, which advises international companies on their investment and business strategies in Russia. "We have completed studies for three major groups for Moscow and two other cities and we expect a very significant inflow of investment in commercial real estate."
But Goyal warns that Russian developers are becoming increasingly sophisticated and professional with ample resources to compete with foreign retailers. "St. Petersburg is a classic example. O'Key hypermarket chain is very successful in the market. They have the best locations, a great understanding of the local consumers and offer formidable challenge to new comers," Goyal said. "Metro's Cash & Carry of Germany was a an early entrant, but between Metro, O'Key, Lenta, a proposed IKEA mall, and soon Ramstore, we think the market will soon reach a point of saturation. In any case, the best and cheapest land plots have already been taken."
According to Goyal, the timing is just right now for entering the Russian commercial real estate. "We will see some very significant deals next year. Latecomers will pay much more for lesser risks and lesser profits. It will be a boring market in a few years. Those who came in post 1998 have done extremely well and there is a window of opportunity still open in Moscow, Moscow Oblast and other cities."
News source: russiajournal.com


Print this news
---
Business news archive for 14 October' 2004.
Business news archive for October' 2004.
Business news archive for 2004 year.