Business news
Japan Visit Spurs Local Interest
10.19.2004 12:28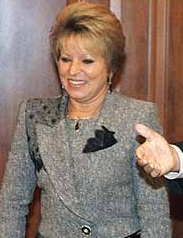 By Sveta Skibinsky
Staff Writer
Governor Valentina Matviyenko's visit to Japan last week has created a stir in St. Petersburg business circles as the city seems to be warming to the land of the Rising Sun.
Representatives of Japan's largest financial trading groups, Marubeni Corporation and Sumitomo Corporation are expected in the city to finalize agreements on a number of city projects. Meanwhile, other Japanese companies, including Mitsubishi and Toyota, have recently announced their intention to partner up with St. Petersburg, City Hall said.
"There is a wealth of financial resources in Japan, and its business people are looking for investment markets," said Matviyenko upon returning from Japan on Saturday. During the governor's three-day visit, she met with representatives of 12 companies and signed two cooperation agreements. "We went to Japan not to ask for anything, but to seek cooperation as equal partners," said Matviyenko.
Recent moves towards cooperation have much to do with JBIC, Japan's largest state-owned bank, saying in July that it would provide long-term loans to St. Petersburg without requiring federal guarantees in return. The possibility of getting low-interest loans played a major role in attracting Marubeni, Sumitomo, and Mitsubishi Heavy Industries among others, to projects in the city, said a source close to the major Japanese investors, who wished to remain anonymous.
Agreements already signed by Marubeni and Sumitomo with the city set out frameworks for development of several large city projects.
Marubeni, a corporation since 1949, lists several large Japanese banks and insurance companies as its major shareholders. It has expressed interest in supporting the construction of the Western Express Diameter, working in partnership with Vodokanal (the city's water utility) on building new water-treatment plants and renovating the water-pipe system, Interfax reported.
Sumitomo, a trading power group with long ties to Russia, is keen to supply electrical equipment for the city's public transport and to build waste utilization outlets, although no details of the projects can be made public yet under the confidentiality agreement with Smolny, said a company's representative. Although it is too early to talk about the amount of financial input, one thing remains clear - the projects, once completed, will be owned by the city, said the representative.
Matviyenko also met with representatives of Japan AirLines to discuss the possibility of establishing direct flights from Japan to St. Petersburg.
"There is nothing sudden about the boom of Japanese interest in the city", said Hiroshi Yamamoto, the director of the city's Japan Center.
"St. Petersburg is the second city in Russia in all respects, and so far it has had very little Japanese presence, especially when compared with Moscow and Russia's far-east cities," said Yamamoto. He agreed that the cheap credit offered by JBIC is the main catalyst for St. Petersburg's Japan connection at this point, but added that it seemed a logical step in any case.
Among the most interesting projects Yamamoto named the potential openings of large automobile assembly plants, such as Toyota. "Companies like that never enter the market alone. They have a satellite company chain that comes with them. New plants also mean real investment in a region's economy, and not only a trade boost," said Yamomoto.
Matviyenko said Toyota plans to start building 23 plants in Russia, with three of them in St. Petersburg. When asked to expand, she reported that negotiations were under way and nothing more could be added due to confidentiality agreements, reported news services.
For one industry insider, who asked to remain anonymous, Matviyenko's prognosis that Toyota will open assembly plants in Russia, and, furthermore, in St. Petersburg seemed more than doubtful. "A total of 23 new plants is complete rubbish," he commented.
News source: times.spb.ru


Print this news
---
Business news archive for 19 October' 2004.
Business news archive for October' 2004.
Business news archive for 2004 year.