Business news
City Lures Moscow Businesses
10.28.2004 15:09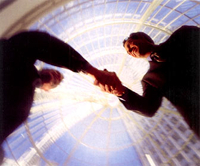 By Maria Levitov
Staff Writer
The city's governor, Valentina Matviyenko, is on an ambitious drive to lure some of the nation's biggest companies to the northern capital.
Gazprom CEO Alexei Miller has announced that its new subsidiary, Gazpromneft - set to become one of the country's major oil producers - will register in St. Petersburg, as well as its unit Gazpromregiongaz.
Miller is a native of St. Petersburg and a close ally of the president.
The country's No. 2 bank, Vneshtorgbank, is also said to be planning to move its headquarters to St. Petersburg, and more than half a dozen large companies are in negotiations to follow suit, the city has said.
"The administration will provide a favorable environment for doing business in St. Petersburg," Natalia Kutabayeva, Matviyenko's spokes-woman, said by telephone.
The governor's appeal to the business community is intended to raise funds to help maintain the city's cultural heritage, she said.
Although it is nearly impossible to estimate how much extra money is at stake, the city could conceivably reap tens of millions of dollars in extra revenue.
Earlier this year, Matviyenko told reporters that the city is in talks with eight large companies about transferring their tax registration to St. Petersburg.
Kutabayeva confirmed there are negotiations with LUKoil, state-owned oil company Rosneft and TNK, but would not name the other companies. She also refused to comment on the reports of Vneshtorgbank's moving plans, as did a spokesman for the bank.
However, Vneshtorgbank officially announced late last week that its observers' council had approved a move to St. Petersburg, Kommersant reported Saturday.
In spite of Matviyenko's energetic attempts to tip the country's financial center of gravity away from Moscow, some experts doubt her success.
"It's not enough for someone to say that the financial center will move for it actually to move," said Andrei Yemelin, managing vice president of the Association of Russian Banks. "There are no economic reasons for such a move."
Nevertheless, shipbuilder Sovkomflot is moving its headquarters from Moscow, Kutabayeva said, and Transneft will open a regional office in St. Petersburg. Matviyenko has welcomed Transneft's decision as "an important addition to the city budget."
"This will allow us to attract $30 million to the city next year, in addition to the 450 million rubles that [Transneft] is transferring to the [city] budget," Matviyenko said in a statement earlier this month. "We are providing the company with a building ... so [the office] could function properly."
Rosneft is also planning to open a recently established subsidiary, RN-Trade, in the northern capital.
"We have the right to make these sorts of decisions without explaining them to anyone," said Rosneft spokesman Alexander Stepanenko when asked why St. Petersburg - and not Moscow - will become the trading company's base.
The deputy head of the presidential administration and a St. Petersburg native, Igor Sechin, was appointed to the board of Rosneft in July.
What is certainly important in a company's decisions is that labor costs are lower in St. Petersburg than in Moscow and that IT services and other infrastructure are well developed, said Yekaterina Trofimova, financial sector analyst with Standard & Poor's, in a telephone interview from Paris. These factors can make the relocation of some financial institutions to the city possible, but they do not provide enough of an incentive for a mass exodus, she added.
"Banks will remain near their large clients and in Russia, large clients are in Moscow," she said. "There were efforts to build up St. Petersburg as the financial center in the past but they failed."
Trofimova recalled that the late St. Petersburg mayor, Anatoly Sobchak, spearheaded an initiative that eased the process for foreign banks to open subsidiaries in the northern capital.
"Nothing came of it, largely because Russia's financial flows are highly centralized," Trofimova said.
However, if Vneshtorgbank ends up moving to the city, it could boost the city's image as a financial heavyweight.
Furthermore, the city's proximity to the West could be a good reason for creating a greater financial presence there, said Natalia Orlova, banking sector analyst at Alfa Bank.
"St. Petersburg is already the country's second-most important financial center," said Alexei Titkov, a regional analyst at the Carnegie Moscow Center. If the bank relocates, he said, St. Petersburg's banking weight would double, as the city would gain almost 6 percent of total assets held by Russia's largest 200 banks. Still, the bank's departure would have a "serious but not critical" effect on Moscow, where 88 percent of assets of the largest banks are located, he added.
Yemelin cautioned against overestimating the effect of any such move.
"St. Petersburg, luckily, already has banks," he said. "Moving one bank to Cheboksary will not make Cheboksary into a financial capital."
There has also been talk of moving higher courts to St. Petersburg, Yemelin said, and nothing ever came of that.
Following her election in October 2003, Matviyenko has often mentioned the need to transfer one of the government branches of power - namely the judiciary - from Moscow.
Over the summer Matviyenko said publicly that a decision had been made to move certain "capital functions," to St. Petersburg, which the Kremlin promptly denied.
While there are no new developments in moving the judiciary to St. Petersburg, Kutabayeva said, work to attract more corporate money to the city is at full steam. For the doubters, however, "it seems more like a PR game aimed at increasing St. Petersburg's profile," said Titkov.
News source: times.spb.ru


Print this news
---
Business news archive for 28 October' 2004.
Business news archive for October' 2004.
Business news archive for 2004 year.