Business news
Airlines Up Prices to Cover Fuel Costs
11.02.2004 12:54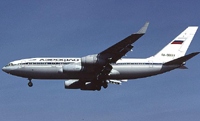 St Petersburg Times
By Sveta Skibinsky
Staff Writer
Photo by Natasha Danchenkova / SPT
Russian airline operators started raising ticket prices this week in an attempt to compensate for increasing fuel costs and the lack of domestic aircrafts.
Aeroflot, the country's largest operator, implemented a $10 to $15 "oil tax" on ticket prices Monday, deeming the step necessary due to the record-breaking world oil prices.
"It was an unavoidable step, since fuel prices are rising, and fuel is becoming a heavier load on our expenditure," said Aeroflot commercial director, Evgeny Bachurin, on Thursday. Fuel makes up 30 percent of all Aeroflot's expenses right now, Interfax reported.
The November price increase is just the tip of the iceberg for aviation, media sources reported. Business daily Izvestiya pronounced the price hike by the domestic airlines a pre-agreed on measure designed to counter the rising fuel prices. However, the airlines will make price increases at different times in order to avoid probing by the Federal Anti-monopoly service, as reported by news website Fontanka.ru.
St. Petersburg-based carrier Pulkovo said Monday its prices will remain unchanged for the moment, despite widespread concerns that the aviator's recent Boeing-lease deal may also prompt it to follow suit with a price increase.
Last week, Pulkovo and International Lease Finance Corp. signed a five-year lease contract for two Boeing 737-500s.
"The jets will enter service next March and June," said Boris Gudkovich, Pulkovo's deputy general director of finance.
Struggling to accommodate growing passenger traffic with the limited number of available domestic aircrafts, the country's carriers have begun importing Boeings and Airbuses to boost their fleets, despite steep 40 percent import duties and value added tax surcharges.
While Aeroflot and Transaero enjoy a tax break from such duties, other airlines - including Pulkovo, Sibir, Krasair, Volga-Dnepr and VIM-Avia - have resorted to importing leased jets despite the high costs.
"All our calculations and business plans take into account the duty payments. But they are no longer an issue with fuel priced at $500-600 per ton, when it used to be $200. They have dissolved in the new fuel economy," Gudkovich said.
With a lack of domestic aircraft available, Pulkovo is having to choose from foreign jets to expand its fleet, Gudkovich said.
Annually the domestic airline industry produces only a handful of jets, which, furthermore, trail foreign planes in terms of fuel efficiency.
Yet, the creation of one united aircraft manufacturing company in Russia, proposed as a solution to the problem, would only lead to a decrease in aircraft manufacturing, said the head of defense and industry department at Energy Ministry Yuri Koptev recently.
"According to estimates, by the end of 2007 the amount of people employed in the aviation industry will drop from 513,000 to 460,000 people. And only half the aircraft manufacturing plants will be left in operation," said Koptev, as reported by news website Gazeta.ru.
Paul Duffy, an independent, Moscow-based aviation analyst, said a Boeing 737-500 could cost up to $180,000 per month to lease.
Staff Writer Lyuba Pronina contributed to this report.
News source: times.spb.ru


Print this news
---
Business news archive for 02 November' 2004.
Business news archive for November' 2004.
Business news archive for 2004 year.