Business news
Music in the Money House: Mixing Business with Pleasure
11.09.2004 14:40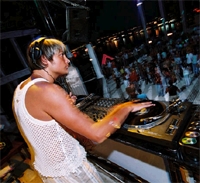 St Petersburg Times
By Sveta Skibinsky
Staff Writer
Photo by www.djromeo.ru / for SPT
Now at 23, Alexei Ushakov, better known as DJ Romeo, is a successful self-made businessman, who's turned his passion for dance music into a career.
With five records to his name, his own label, and a recently opened café-club on Nevsky Prospekt, Romeo's ambitions fly still further: opening a restaurant in St. Petersburg in the spring and becoming the world's greatest DJ in 10 years.
"I know what to motivate myself with, be it beautiful girls, new records to play, the scene or the upcoming vacations," said Romeo, who plans to take a break from his busy schedule in the winter, sunbathing on the beaches of Miami and Rio de Janeiro. "Money is the last motivator for me," he said. "But, when there is nothing positive left about a gig I have to play, I remind myself that at least it'll be 'cash for peanuts'."
Romeo has not always been the fashionable and wealthy socialite he poses as today. Eight years ago, just after finishing 10th grade, he first went to radio station Record determined to get a job after a chance meeting with the station's PR director at a party.
"I was sporting bright-yellow jeans and a sparkling jacket - the trendy get-up at the time, but I guess I had something that convinced them to hire me," said Romeo, half-laying on the couch in the back room of his posh café-club Barbie's Day & Night, smoking a shisha.
Romeo started working for the commercial department at the radio station, while deejaying in the city clubs at night. "I rarely got more than three hours of sleep in those days," he said.
He also took up the post of a part-time VJ (presenter) at the station, hosting two shows weekly - something he does still, only the hours have shifted to primetime.
"I didn't like VJing at that time," he said. "I couldn't play just the music I liked, since there was the format of the station to observe. I had to play a lot of pop songs, and I don't like pop," he explained.
Romeo continued playing in various city nightclubs, such as the trendy club 'Absent', where he soon became popular with the crowd. "I just played what I liked and it got people going," said Romeo. "I mean, I played a mix which included the same commercial dance hits [other DJs played], but my sets had a sort of energy people could feel and respond to positively."
Romeo's music genre of choice has always been house music, spanning from its lightest to the heaviest manifestations, he said, with lots of Dutch-artist influences in the early days.
With club popularity, sales from record releases started to rake in the cash.
Romeo worked with four city record store chains - Titanik, Iceberg, 505 and Kinomir, doing his own promotion to get the deals. "Of course, the situation in Russia is going to change within two or three years, as the country adopts stricter anti-piracy laws [subject to its entrance in the WTO], and that will affect the entire music industry," said Romeo. Nevertheless, his records have been selling at top prices, with people paying as much as 700 rubles for a CD, when most discs in Russia now can be bought for under 300 rubles, or $10.
After leaving Absent as the resident DJ and art-director in 2003, his name already well-known to the city's trend-conscious audience, Romeo began working independently.
He started touring a lot throughout Russia, playing anywhere from Moscow to Irkutsk. "Different people liked me for different things," said Romeo. His fans span teen-age girls, who admire the DJ persona, 40 and 50 year-olds, who like Romeo's no-strings feel-good music, and more.
"Romeo is developing a niche on the [commercial] music scene, which hasn't been explored much yet," said friend and colleague, Pavel Vorontsov. "There is a demand for 'image music' in the world - music that reflects a personal lifestyle, where the DJ name is like a brand. In that niche Romeo has great potential," said Vorontsov. A few Moscow DJs are working in the same direction, he said.
Romeo began to play European clubs as well, placing major night-life spots such as Ibiza, London and Barcelona high up on his list. "I'll stay in St. Petersburg until I see I have no more room for growth here. I love Piter, but it is too gloomy here during most of the year - it gets you down, makes it difficult to wake up. And I've slept through too much in my life already, " he added.
However, getting ahead in Europe, where competition is ten times that at home, requires major business skills.
"I take care of my own market positioning. In European clubs I often have to lower prices in order to secure the first gig. The industry is very word-of-mouth, so once you get your foot in the door it gets easier from there," said Romeo. As he speaks, his phone is ringing constantly: some are personal calls, but most are business: apparently a gig in Madrid has just been secured at $700 a pop.
"The more money you make the easier making money gets," said Romeo. "It's been tough, but I was always sure that I have something unique [to give to people], and that certainty has kept me going when others would have given up," he said.
Romeo's life revolves around the glamorous combination of expensive cars, glittery dance floors and fashionable people. "At one point I though life was getting better for everyone, but then I realized it was just me," he said confidently.
When asked about his relations with the world outside the limousine window, Romeo said he keeps to his limits. "I do what I can to make the people in my circle feel better. But I can't do that globally."
News source: times.spb.ru


Print this news
---
Business news archive for 09 November' 2004.
Business news archive for November' 2004.
Business news archive for 2004 year.