Business news
Regions Show the Best Retail Centers
11.11.2004 14:08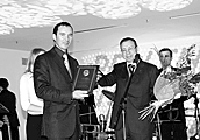 The St Petersburg Times
By Dmitry Mironenko
Special to The St. Petersburg Times
Photo for SPT
St. Petersburg's Sennaya shopping mall shone as one of the front-runners at a two-day industry gathering organized by the Russian Council of Shopping Centers late last month.
Reflecting the retail industry's aggressive search for new markets beyond Russia's two main cities, it was the regions, however, who made the strongest showing overall, with a Volgograd mall taking this year's award as the best retail center.
The Russian Council of Shopping Centers held the competition for the second year in a row and presented the awards at the Investment in Retail conference in Moscow at the end of October.
Unlike last year, when Moscow projects dominated the nominations, this year's shortlist of nominees for best shopping center, as well as Sennaya retail center on Sennaya Square, consisted of projects from regional cities such as Perm, Volgograd, Nizhny Novgorod, Yekaterinburg and Ufa.
A panel of judges - including big industry players from the private sector and representatives of city and federal government - determined the year's top retail project on the basis of criteria developed by the International Council of Shopping Centers, a global trade association with 44,000 members in more than 70 countries. The criteria included assessment of marketing, concept and planning, architecture and design, and management.
The prize for best shopping center went to Volgograd's new retail landmark, the Park House mall. The three-level project, which opened early in 2004, features more than 27,000 square meters of space for lease and a parking lot for 1,300 cars. The center's anchor tenants include Mexx, Belle Postel, Svyaznoi, Henderson and Sela.
"The progress that retail development in the regions has made in just a few years is truly impressive," said Natalya Oreshina, director at Stiles & Riabokobylko, the local affiliate of Cushman & Wakefield Healy & Baker. "It is analogous to what has been accomplished in other European countries, [but there] this process took several decades."
Organizers said that the reason no Moscow shopping centers had competed for the prize was that there have been no new projects in the capital this year to match the success of last year's winners, Atrium and Mega mall.
"The rating is quite representative of what happened in the course of last year on the market, as there were no major openings [in Moscow] in 2004 until recently," said Philippe Beurtheret, deputy head of the retail department at Jones Lang LaSalle. Another trend, he said, is that more and more companies are combining development, marketing and property management.
In contrast to Moscow, supermarkets and hypermarkets have been popping up all over St. Petersburg over the past two years, and several developers have said that the city's retail market is far from being saturated.
Vladimirsky Pasazkh, located about a kilometer east of Sennaya Square, is another of the city's newer shopping centers. It's eye-catching design, good location - near Kuznechny market and Nevsky Prospekt - and its 24-hour Lend supermarket have made it extremely popular.
A Moscow firm, Delta-Servis that runs the capital's Golden Babylon shopping mall, did succeed in the Best Management Company of 2004 prize, determined on the basis of experience, technology, tenant relations and financial results.
The judges' special prize went to Garant-Invest Group for its 38,000-square-meter retail park project in southern Moscow, which is scheduled for completion in fall 2005.
Unlike shopping malls, retail parks - also known as power centers - are a group of specialized stores over a large area that offer wares at discount prices.
The winners and runners-up of the award will receive an invitation to participate in the European Shopping Center Awards, a major industry contest that has been held for the past 29 years.
"Of course it would be impossible to include everyone in the rating. Besides, this would mean the same contender winning the first prize over and over again," said Maxim Gasiyev, director of retail department at Colliers International.
"However, I believe it is a great experience for participating companies, as the competition can help them learn more about their strong and weak points. It also gives an incentive to other players to achieve better results."
There are only two ratings in the domestic retail real estate sector. The second one is organized by Commercial Real Estate magazine.
Staff writer Katherine Ters contributed to this article.
News source: times.spb.ru


Print this news
---
Business news archive for 11 November' 2004.
Business news archive for November' 2004.
Business news archive for 2004 year.