Business news
State Bans Import of German Flowers and Vegetables
11.16.2004 15:01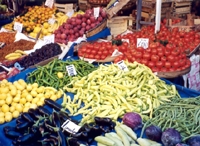 The St Petersburg Times
Combined Reports
A temporary ban on German plant and flower imports to St. Petersburg and the Leningrad Oblast went into effect Monday after a pest was discovered in a German shipment of flowers, the Agriculture Ministry said.
Included in the ban were fruit, vegetables, flowers, seeds and herbs, after inspectors found a virus-spreading insect - the Western California thrip - in flowers shipped from Germany on two occasions last week.
Officials said the ban could be lifted provided Germany took necessary measures: "Germany needs to present convincing documents that it has taken measures to guarantee that Russian sanitary requirements are to be met when exporting plant-based products to Russia," said Sergei Dankvert, chief of Rosvetnadzor, Russia's federal veterinary and plant sanitary control service, as reported by Interfax.
The ban does not, however, extend to processed plant products such as jams or canned vegetables, said a ministry spokeswoman, who declined to be identified. The insects that prompted the current ban were discovered in flowers imported from Germany on Nov. 5 and 9, she said.
Russia already introduced a ban on flowers from the Netherlands over the summer, also due to thrips. Dutch flowers were allowed to arrive in Russia through third countries, however, providing they satisfied the intermediary country' sanitary requirements.
Dankvert said that Belgium, too, could receive a 'final warning' about pests in its plant exports to Russia, Interfax reported. Russia, likewise, is monitoring the case on the border with China.
Dutch flowers accounted for 90 percent of the city's flower market before the ban in July. At that time Dankvert refused to estimate when the ban could be lifted. "It is impossible to settle the matter without sending Russian specialists to the Netherlands, where they can examine the greenhouses used for growing products for import," he said. No solution has been introduced as of yet.
The Russian flower business is estimated at $1 billion. The policy of bans, undertaken by the government, has been seen by some wholesalers as an attempt to re-organize the market.
The director of St. Petersburg-based wholesaler Flora, Vladimir Kuleshov, said that in his opinion "someone is provoking the redistribution of shares in the flower market."
"Holland has the best system of quality control in the world. There is no importer to replace Dutch exports to St. Petersburg," said Kuleshov.
Other city wholesaler, Aalsmeer said they have been importing flowers from Israel, Colombia and Ecuador in an attempt to fill the gap in flower imports.
But these measures "cannot possibly last long," said Aalsmeer's director, Roman Kivel, as they are taking a considerable toll on transportation and packaging costs.
News source: times.spb.ru


Print this news
---
Business news archive for 16 November' 2004.
Business news archive for November' 2004.
Business news archive for 2004 year.