Printed from: http://petersburgcity.com/news/business/2004/12/06/india2/
Business news, 06.12.2004 18:12
India, Russia seal pacts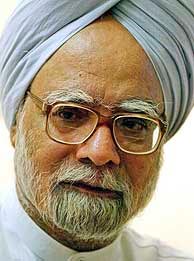 India and Russia Friday signed a series of agreements, including a Joint Declaration, peaceful uses of outer space and joint development of a satellite navigational system.
The agreements were signed in the presence of Prime Minister Manmohan Singh and Russian President Vladimir Putin following their annual summit talks at the Hyderabad House here.
Putin, heading a high-power delegation, arrived here early Friday on a three-day visit to India.
The Joint Declaration emphasises the strategic partnership between the two countries even as it takes note of the changes in the global environment.
Agreements were also signed on joint development and use of the revived Russian Global Navigation Satellite System (Glonass) that is seen as an alternative to the US Global Positioning System (GPS), peaceful uses of outer space and visa-free travel for diplomatic and official passport holders.
An agreement was also signed on "twinning" Mumbai and St. Petersburg, with Mumbai Municipal Corporation Mayor Mahadev Deole and St. Petersburg Governor Valentina Matvienko inking the document. St. Petersburg is Putin's hometown.
Agreements were also signed between commercial banks of the two countries to open branches in each other's country and between oil and gas majors to cooperate in development and production activities.
News source: news.newkerala.com