Business news
On Designer Relations With the Danes
12.15.2004 16:06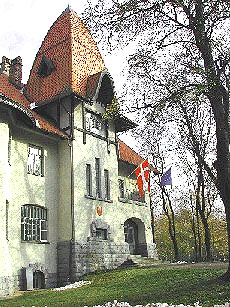 Joergen Peter Weis, Danish Consul General in St. Petersburg, said that 60 percent of the consulate's work is in business. None the less, the Consulate also values visa issues and supports Danish nationals and culture.
As a sign of his commitment to Danish-Russian relations, Weis spent most of last week (Dec. 7 to 10) with a Danish trade mission to Arkhangelsk and is travelling there again this week to visit the region's governor Nikolai Kiselyov.
Denmark's economy has gone through tremendous transformations since World War II. The country's traditional strength has been its highly productive agricultural sector. It employs only about 1.2 percent of Denmark's workforce, but produces enough to feed five times its population of 5.4 million.
In 1953, 75 percent of Denmark's exports were agricultural products, mainly cheese, butter, veal and pork, including hams and sausages.
Today Denmark exports an even greater amount of agricultural products, but they now account for only 8 percent of the value of exports. Industrial and especially service sectors have grown rapidly.
DIVERSIFICATION
"We try to improve our education all the time," Weis said last week in an interview. "We want to go from a service society to an educational-science, knowledge-centered society."
"The prime goal for Denmark is diversification," he added. "Denmark is a country of niche industries - our aspiration is to higher the technological level of our products through added value of knowledge".
"In that way Denmark is a world leader because of a high technological level in areas like agriculture. We always try to be the best in the world."
"In agriculture, we are not the biggest producer of pork, but our tiny country is the world's largest pork exporter."
Another leading Danish product is the Grundfoss pump. Weis said Grundfoss has held up to 65 percent of the world market for water circulation pumps.
Danfoss thermostat is another good example of a Danish niche product.
Novo Nordisk has a 45 percent to 55 percent stake in the world insulin market, Weis said.
Plant-based additives and ingredients are also a Danish specialty and the country supplies 55 percent to 70 percent of the world demand, he said.
Danish-based Maersk Sealand is the world's largest container shipping company.
DESIGN CENTER
Denmark is famous for its architects and engineers. The Sydney Opera House was designed by the Danish architect Joern Utzon and is one of the world's most celebrated buildings.
Weis said that Danish designers, artists and craftsmen have used their talents in creating exquisite furniture, televisions, porcelain, jewelleries and kitchens, which are known worldwide as Danish Design. Some of the furniture and household items are exported to Russia.
Royal Copenhagen Porcelain is one of the most celebrated porcelain works in the world and ranks alongside leading dish makers such as Germany's Meissen works or St. Petersburg's Lomonosov Porcelain Factory.
LOOKING BACK TO GO AHEAD
Russia is a very interesting, growing market for Denmark," Weis said. "There is a lot of potential for an increase in trade and investment."
In 1916, Russia was Denmark's third-largest market. "It gives an idea of how important Russia had become to Denmark before the [October 1917] Revolution." Today Russia is Denmark's 16th largest trading partner.
ROYAL MARRIAGE
Denmark's princess Dagmar married Russian crown prince Alexander, later Alexander III, in 1866 and outlived her son, Nicholas II, who was murdered by the Bolsheviks in 1918, by 10 years.
After converting to the Russian Orthodoxy, she adopted a Russian-style name: Maria Fyodorovna. She is buried in Roskilde Cathedral, but her remains will be interred alongside those of her husband in the Peter and Paul Fortress in 2006.
Weis said her presence brought a lot of Danes to Russia. The reforms started by Alexander II also brought many agricultural advisers to Russia, whose presence led to greater understanding of agriculture in Russia.
Denmark sold a lot of food products, machinery, instruments and a small quantity of luxury items.
AFTER THE SOVIET ERA
Large Danish companies are well-established in Russia today, the Consul General said.
"These companies are well settled here," he said. "But I would like to see many more Danish companies come to Russia."
It is Russia's bureaucratic delays and other barriers, however, that hinder more Danish companies in their investments, he said.
"Many Danish mid-sized companies are showing interest in establishing production in Russia," Weis said. "Danes will have to choose either Brazil, China, Russia or somewhere else. Basically, wherever it's easier - and that's not Russia at the moment."
"We assist many Danish companies in the process of establishing a solid network in Russia. We try to tell the Danish business community about the potential and the possibilities of being present in the Russian market."
"It is important to develop our contact with Russia and we are sure it will also benefit Russia a great deal."
About 120 Danish companies have small investments and operate in Russia, with some 35 of them in the Northwest region; the majority are in St. Petersburg or the Leningrad Oblast.
News source: www.sptimes.ru


Print this news
---
Business news archive for 15 December' 2004.
Business news archive for December' 2004.
Business news archive for 2004 year.