Business news
Unimilk Bets on High Sales in Yogurts
03.19.2005 18:33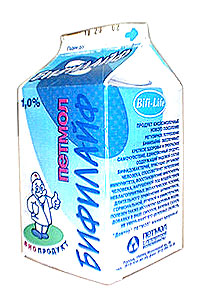 Unimilk, the country's second largest dairy producer, launched Tuesday a new premium class drinking yogurt line in St. Petersburg as part of the company's $15 million investment program.
The production, under new brand Liasson, started at Unimilk's St. Petersburg factory, Petmol, on Tuesday and should reach 12,000 packs an hour capacity, Andrei Beskhmelnitsky, general director of Unimilk, said at the launch briefing.
"Liasson is one more brand we have launched in St. Petersburg," Beskhmeknitsky said, adding that the company plans to nearly double its distribution points to promote the new product.
The introduction of a new line in drinking yogurts looks timely, say industry players, as a notable drop in traditional dairy products has run in contrast to success in new segments.
At the end of last year, Aksel Hartmann, general director of dairy producer Ehrmann Russia, said his company was planning to invest 5 million euros ($6.7 million) into drinking yogurt production in Russia.
"Consumption of regular yogurts in Russia is on the decline, evidently due to the habit of Russians to drink milk, kefir and other milk drinks. The consumption of drinking yogurts, however, is growing quickly," Hartmann told Kuranty newspaper.
An analyst from dairy distribution company Milkom added that Unimilk's launch was a significant move and their planned production could compete for a handsome market share.
"The line capacity [volume] is a fair one that may provide serious competition to imported and non-locally produced products," the analyst said Wednesday, asking not to be identified.
Unimilk's main competitor, the country's largest dairy and juice manufacturer Wimm Bill Dann, was less impressed. Although the company's spokesperson Yeleonora Chernetskaya would not comment, a manager at the company's analytical department who asked not to be identified estimated Unimilk's production volume as only "average."
The dairy market has seen an energetic resurgence in recent years, with widespread advertising from all major industry players, especially Wimm Bill Dann and Danone.
Emerging dairy products such as milk and juice mixers and drinking yogurts have gained in popularity as people look for more health-conscious products.
"Natural ingredients, live bifido culture and similar components attract health-conscious customers," said Pavel Galant, commercial director of Classic, an importer and distributor of dairy products. "Heat-treated regular yogurts usually lack those properties."
Unimilk's new brand Liasson will offer drinking yogurts in four flavors, with berries and fruit pieces, yogurt-juice mixes and in the future, cottage cheese desserts.
St. Petersburg's Petmol is the largest of 12 dairy factories owned by Unimilk in Russia and the Ukraine.
The company's turnover is estimated at about $360 million a year. Unimilk also operated other dairy brands L'Actual, Prostokvashino and Tyoma.
News source: www.sptimes.ru


Print this news
---
Business news archive for 19 March' 2005.
Business news archive for March' 2005.
Business news archive for 2005 year.