Business news
Training the Right Way to Serve
03.30.2005 19:06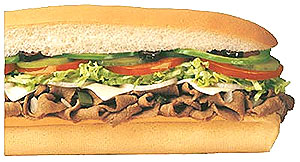 The expansion in Russia of Western fast food giant Subway may not have been especially rapid up to now, but the store numbers of the sandwich bar could be about to skyrocket; and all that the American company has to do is be a good teacher.
Subway Russia has announced plans to create no less than 50 stores in Russia, 10 of those in St. Petersburg, by the end of 2005, but the catalyst of the expansion will be Russian businesspeople, trained and licensed as franchisees by the U.S. company.
In order to maintain the company's standards, Subway has even opened a training center in St. Petersburg recently that all potential franchisees must attend.
"A franchise agreement stipulates that every franchisee agrees to participate in a special training course to learn the concepts, the rules and the technological know- how for their new business," Lyudmila Puzanova, director of Subway's training center told business daily Delovoi Petersburg.
In the days of the Soviet Union people used to complain profusely about the quality of goods and services, but the choice was very limited. Since the perestroika era the options have considerably improved, but one thing still noticed by most foreigners is the lack of either service know-how or its application.
The training and know-how that a global company such as Subway among others can provide have been warmly welcomed by many Russian entrepreneurs.
Inna Nazarova is the first Subway franchisee to have completed a two- week program at the Subway training center in St. Petersburg, and is now a proud owner of a the U.S.-brand franchise in the Siberian city of Tyumen.
"The program was very interesting but challenging," Inna Nazarova said in a telephone interview from Tyumen. "The two weeks that I spent in St. Petersburg gave me a lot of insight into the operational principles of a large restaurant company.
"The things that at first proved difficult were the American terms and Western economics logic," she said, adding, however, that the classes were conducted in Russian.
Although the economics part may have taken a while to sink in, some things were less stressful.
"One of my first challenges was to learn how to bake specialty bread," Nazarova said. After some baking successes, "everything went very smoothly for me. The training was very practical," she said.
Since returning to her native Tyumen, Nazarova said she has been in regular contact with the St. Peterburg training center and has received a lot of support from its teachers and staff.
The sandwich bar chain is just one of several global fast food chains that have picked franchise licensing as a way of expanding their operations in Russia.
Among others, McDonalds and Baskin-Robbins already operate their training centers in St. Petersburg, while pizza chain Sbarro conducts training at its center in Moscow and lists a training manager in St. Petersburg as well. The training courses at such companies last between two weeks and three months.
American food holding Yum Brands Inc. has sold licenses to four franchisees to open its Pizza Hut and KFC restaurants in Russia.
While working independently from one another, all franchisees are in regular contact with the holding that coordinates their work and provides free training and advice. Yum Brands runs a 3-tier training program: for top managers, managers and restaurant waiting staff.
The largest of the Russian franchisees is Pizza Nord in St. Petersburg. The company owns 18 out of the 28 Pizza Hut and KFC restaurants in the country.
Pizza Nord's general director Vladislav Ivanov and operations project manager Irek Khaibulin, went through their first fast food retail training in 1994. Their company started to expand actively at the end of 2000, with 10 new restaurants opened just in 2003.
Khaibulin explained that the company runs two-month training programs for its restaurant staff, including managers. Pizza Nord's training center is on the premises of Pizza Hut and KFC restaurants near Petrogradskaya metro station in St. Petersburg.
The important components of personnel training at the fast food franchise are a "Customer Mania" mindset and feedback, Khaibulin said.
Naturally, alongside training and a 40-ruble hourly wage, the company pays out bonuses when a restaurant exceeds its monthly targets.
The strength of the franchise training programs lie in imparting globally acquired knowledge to domestic entrepreneurs and thus supporting the chain's brand image in Russia, said Rachel Shackleton, general director of Concept Training.
"It helps to guarantee and ensure customer expectations are not disappointed due to differentiation from the main brand in terms of quality, service levels, consistency and overall image," Shackleton said.
"The training support provides the main organization with a method of control while providing the franchisee with support to get their business off to a strong start."
Futhermore, in-company training centers help to show entrepreneurs that opening a business, such as a restaurant, is not only about investments and the brand name, Shackleton said.
"Another positive aspect of this training support is that it provides the new owner with a clear understanding of the importance of training of human resources to provide an effective business," she said.
News source: www.times.spb.ru


Print this news
---
Business news archive for 30 March' 2005.
Business news archive for March' 2005.
Business news archive for 2005 year.