Printed from: http://petersburgcity.com/news/business/2005/06/20/global_energy/
Business news, 20.06.2005 17:39
Global energy international prize ceremony to be held in St. Petersburg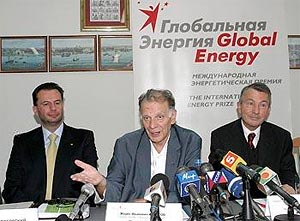 The Global Energy International Prize will be awarded today to Russian academician Zhores Alfyorov and German Professor Claus Riedle in a ceremony at the Konstantinovsky Palace in Strelna, a suburb of St. Petersburg.
The International Committee awarded Alfyorov the prize "for fundamental researches and a considerable practical contribution to the creation of semi-conductor energy converters used in solar and electrical power industry." Claus Riedle was awarded the prize "for development and creation of powerful high-temperature gas turbines for steam and gas power plants."
Each prizewinner will receive a diploma, a medal, and a check from the Board of Trustees. This year's award of $1 million will be equally divided between the prizewinners.
Russian government officials, celebrated Russian and foreign scientists, the heads of Russian and foreign energy companies, and other public figures will attend the ceremony.
The Global Energy International Prize was founded in 2002 by Russia's energy giants, Gazprom and the RAO Unified Energy Systems of Russia. It is the first individual prize in world fundamental and applied science, which is awarded for discoveries and developments in the sphere of energy and power engineering.
News source: rian.ru