Business news
Consul: Learning Differences to Achieve Closeness
07.06.2005 14:54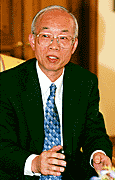 The new Japanese Consul General in St. Petersburg, Takuo Kidokoro, 59, says the main goal of a diplomat is to understand why people of another nation act or live differently.
"I still remember how my daughter's teacher in Japan crossed out her answer to what season people play tennis in. She marked in the paper that it was in winter," Kidokoro said. "And she marked so because for a long time we lived in San Francisco, where there was no real winter and people could play tennis all the time."
"The teacher didn't think of asking her why she thought people played tennis in winter," he said.
Kidokoro believes that people, and particularly diplomats, should always try to understand the reasons for other people's behavior and culture in general. It leads to fruitful relations, in business as well as society.
Since arriving in St. Petersburg at the start of May, Kidokoro said he has set his goal "to take care of the Japanese community and tourists, as well as businessmen, who want to open their business in the city."
"I personally want to have more Japanese companies coming to the St. Petersburg market. However, in order for that to happen, we'll need to explain to them how to enter this market, and equally to explain to the city government what conditions would attract more Japanese business," he said.
One of the biggest problems worrying Japanese companies interested in the Russian market is the complicated documentation and registration procedure for opening a new business, Kidokoro said.
"Of course, if those businesses had to prepare just one document for this purpose, they would come here more willingly," he said.
Delays in customs clearance in Russia also discourage the businesses, Kidokoro said.
The Japanese community in the city makes about 170 people at the moment, most of whom are students of Russian or art, as well as businessmen and those attached to the diplomatic corps, Kidokoro said. The diplomat hoped that the arrival of new businesses would broaden the community.
Already the number of Japanese tourists to St. Petersburg has increased this year by 20 percent. Of their favorite places to visit, Kidokoro naturally names the State Hermitage Museum for its size, beauty and "an excellent collection of art."
Despite the attraction of Russia, several factors limit higher tourist numbers from Japan. Kidokoro mentions particularly the concern over safety that many Japanese feel in St. Petersburg, fueled in part by reports and on occasion personal experience of pick-pocketing and petty theft in the city's metro and cafés.
A further practical complication for tourists is the absence of direct flights between Japan and St. Petersburg, the diplomat said.
Life abroad began early on for Kidokoro. After graduating from Tokyo University for Foreign Studies, where he learnt English, Mongolian and Russian, Kidokoro secured a position at the Japanese Foreign Affairs Ministry.
He performed his first Russian diplomatic mission in 1983, sent to work as a consul to the then Soviet city of Leningrad (now St. Petersburg.) With time, Kidokoro traveled to work as a diplomat in San Francisco, Mongolia, Chicago, and Moscow.
In every country he stayed, Kidokoro learnt something valuable. In America, the lesson seemed that happiness could be gained only from work, but also from donating oneself to the community.
"After learning that I decided to dedicate a part of my life to taking care of the local community, in the current case it's the Japanese community in St. Petersburg," Kidokoro said.
The luck of Kidokoro's post in Leningrad as a young man and his return since, to Moscow, and now St. Petersburg, have given the diplomat plenty of material for comparisons.
In modern Russia, life has acquired some conveniences, such as supermarkets, where everything is weighed and packed. Yet, during the Soviet era Kidokoro felt safer, and there was less traffic.
Kidokoro, who gives an impression of being an open man, said that after 20 years of working abroad he prefers the European sport of tennis to traditional Japanese judo, and is fond of all kinds of folk songs. Traveling enriches his knowledge, and as a diplomatic principle, Kidokoro aims "to feel as if every country I work in is my hometown."
Tetsuya Uchida, head of the St. Petersburg office of the European Bank for Reconstruction and Development has known Kidokoro since 2000 when both men worked in Moscow.
At the time a chief representative of Japan Bank for International Cooperation, Uchida said he often turned to Kidokoro for advice.
Besides being an "experienced diplomat," Uchida rates Kidokoro as a tricky tennis opponent, but also a man with a very friendly character liked by all of the Japanese community in St. Petersburg.
True to his word of trying to understand others and supporting communities, Kidokoro often lectures on Russian affairs at universities in Japan. Because someone has to explain how tennis is played in winter, even in Russia.
News source: sptimes.ru


Print this news
---
Business news archive for 06 July' 2005.
Business news archive for July' 2005.
Business news archive for 2005 year.