Business news
Russia attracting automakers
07.22.2005 16:07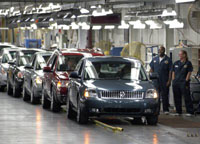 Russians often combine a prickly nationalism with a tendency to self-deprecation. The latter trait becomes especially pronounced when they bemoan the shoddiness of Russian manufacturing. One trauma of the Soviet Union's collapse was the realization it brought of just how shoddy some of it was -- above all the Russian-made cars that many people had waited half a lifetime to own. Now foreign car firms are responding to this skepticism, and to rising incomes and booming sales, by setting up shop in Russia.
St. Petersburg, Russia's second city, is emerging as the location of choice. Toyota, Japan's leading car firm, broke ground there in June on a factory that will build 20,000 Camrys a year by the end of 2007. DaimlerChrysler will be next. Mikhail Osievsky, St. Petersburg's deputy governor, said the city is talking to other firms. Ford assembles its Focus model just outside town and is expanding production to 60,000 cars a year. Why St. Petersburg and not traditional automaking regions such as Kaliningrad on the Baltic coast or Togliatti on the Volga River?
Tomoaki Nishitani of Toyota said his firm chose St. Petersburg partly because it is on the Gulf of Finland, helpful for importing parts. And it is near several European Union countries, which will help exports. There are tax breaks for big investors. Ford's Henrik Nenzen said labor costs are only a third of Germany's.
St. Petersburg is also the second-biggest chunk of the Russian market, after Moscow. While low by western standards, Russian car ownership is rising fast. Ford expects to sell 60,000 cars this year (25,000 made in Russia), for $1 billion; in 2000, it sold 1,400. This year Toyota has shipped more than 30,000 vehicles.
PricewaterhouseCoopers calculated that 225,000 cars were imported into Russia in the first half of 2005, compared with 280,000 in the whole of 2004.
Along with rising incomes, a nascent consumer-credit industry has helped buyers to bridge the gap between the price of Russian and foreign cars. And costlier materials have driven up the price of Russian brands. Nenzen said the urge to trade up -- 52 percent of Ford buyers previously drove a Russian car -- partly reflects greater discernment, as motorists learn to consider lifetime costs (repairs, fuel consumption, etc.) and residual value, not just the price.
What of the legendarily murky Russian car industry? Sales of domestic models are down by 14 percent on the first half of 2004. Its usurpation was symbolized last week when the first Logans made by Renault at the former Moskvich plant in Moscow went on sale. (This is a joint venture with the Moscow city administration: a useful partner, said Renault's Jean-Michel Jalinier, in a bureaucratically fraught business climate.)
The future for Russian firms might lie in assembly deals with foreigners, such as that between General Motors and Avtovaz. Russia's government seems to be putting overall growth before protecting local car firms.
Now, if only they would do something about the bribe-hungry traffic police.
News source: startribune.com


Print this news
---
Business news archive for 22 July' 2005.
Business news archive for July' 2005.
Business news archive for 2005 year.