Business news
Russians Trash Glitz for Smaller, Practical Cottages
07.26.2005 11:18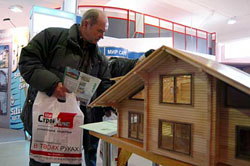 A man may boast of his home as his castle, but Russians are increasingly turning to building cottages that are plain, economical, and rather small.
Gone is the swagger of post-Soviet exaggeration, bulky turrets and superfluous spaciousness. Igor Firsov, head of architectural firm Art-Studio, says Russians have come to choose practicality over luxury.
"Times of such architectural extravagancies as turrets are passing. There's a tendency to build smaller and smaller cottages. Five years ago the average house size was about 250 square meters to 300 square meters. Today, that ranges between 150 sq. m. and 180 sq. m.," Firsov said earlier this month at a roundtable on cottage construction.
"It's not usually sensible to build a house that's less than 100 square meters, but even such projects already exist," he said. Firstov added that the trend for smaller housing could continue for another decade at least, with the average house area set between 150 sq. m. and 180 sq. m.
Lans Development, a projects bank that sells its designs to developers, say up to 70 percent of clients prefer houses of average size.
"In the early '90s a house was a symbol of welfare. But, the economic situation and mental attitudes have changed," Nadezhda Roshchina, head of Lans Development, said at the roundtable.
"It's not just that the size of houses is shrinking. [The change] has a lot to do with increasing comfort: People are picking optimal living space that can also fit in additional facilities such as a sauna," she said.
In part, the trend towards optimization has a natural explanation, in that a larger home is much more difficult to maintain.
"Building castles, villas and mansions, examples of which can be encountered in the Leningrad Oblast, can't determine the main tendencies of the out-of-town housing construction market," Valery Kim, head of the Oblast's architecture committee, said in an e-mail.
"Along with the huge construction costs, owners of such edifices stumble upon huge operating expenses, which sometimes total $1,000 a month," Kim said.
"It seems more sensible to allocate the minimum living space of 50 sq. m. to 80 sq. m. for a private house. Or at a stretch, 90 sq. m. to 120 sq. m.," he said.
Kim said that 335,000 sq. m of private housing was constructed in the Leningrad Oblast in 2004. Firsov said that the prices for cottages in the Oblast started from $800 per square meter.
The opinion of the roundtable's architects was not shared by all in the industry. Igor Luchkov, analyst and manager of the department for valuation and consulting at Becar real estate agency, said the tendency towards smaller housing has not become defined.
"There's a general decrease in demand at the moment. But it's a seasonal swing," Luchkov said. "In general, however, the trend is quite the opposite: the areas of new houses are increasing in certain market sectors."
A WOODEN ALTERNATIVE
While 60 percent of cottages in the U.S. are built from wood, Russians tend to pick concrete or brick for their out-of-town accommodation, although some note this may be changing.
Firsov said that only 30 percent of his firm's orders came in for wooden homes, and those were usually from clients looking for "something cheaper, like a country house." He noted that the trend was especially distinct on the secondary housing market. "Selling wooden-frame buildings can be very difficult," Firsov said.
However, Leonid Karankevich, manager of real estate sales at City realty, said that price played a more important role than material when selling a home.
"Everything depends on the price. If one tries to sell a frame house for the price of a brick one, it won't work, because building a new one would be cheaper. But if the price is reasonable, why not buy it?" he said in a telephone interview.
That wooden housing may be rising in popularity was affirmed by Mikhail Piltser, general director of St. Petersburg and the Oblast timber processors and furniture manufacturers association. Piltser said at the roundtable that the change owes something to involvement from the local authorities.
"There were two conferences held in the first three months of 2005, in which construction companies demonstrated their projects. [After them] the [Oblast] Governor [Valery Serdyukov] decided to hold conferences in 12 municipal districts to focus their attention on woodrn construction," Piltser said.
Kim notes that already 31 percent of the Oblast's private housing is wooden, while brick, block and concrete houses constitute a slightly higher 36 percent share, the rest being constructed from other materials.
"In the Leningrad Oblast construction from wood processing waste materials has been developed to fulfill the criteria of social programs," Kim said.
The idea of backing more wooden housing construction could be due to the material being more eco-friendly, well suited to the local climate, and relatively inexpensive, analysts said.
"The most economical homes are the so-called block-houses, which sell at $100 per sq. m. Brick is the most expensive, about $700 per sq. m., excluding decoration. Wood is somewhere in between," Karankevich said.
News source: sptimes.ru


Print this news
---
Business news archive for 26 July' 2005.
Business news archive for July' 2005.
Business news archive for 2005 year.