Business news
Reka Rubber Plans Plant To Service Auto-Makers
09.21.2005 17:02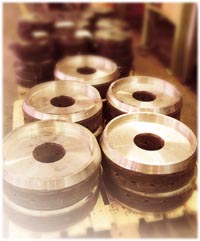 Finnish producer Reka Rubber Ltd. will construct a technical rubber plant in Vyborg targeting among others local auto-makers as its clients, the firm's deputy director for Russia, Oleg Ivanov, said Monday.
Given the presence of some major automobile manufacturers in St. Petersburg and the Leningrad Oblast area, such as Scania and Ford, and the expected arrival of Japan's Toyota, experts said Reka Rubber had chosen a good time to capitalize on the area's growing auto sector.
Initially, Reka Rubber's St. Petersburg will supply the company's existing "international clients," Ivanov said in a telephone interview.
With time, the Finnish firm hopes to attraction Russian producers too, supply local auto-making firms and white goods producers, that should merit several million dollars in annual revenue, Ivanov said.
The company declined to name the investment amount or the dates for factory construction, saying only that it would put in "a few million euros" into the project. "Investment will grow as demand from local producers picks up and our client base expands," Ivanov said.
Reka Rubber expect the plant to turn in profit within a year of operating, he said.
Victor Nikitin, logistics manager at Scania Peter, the local subsidiary of Swedish auto-maker Scania, said Reka's arrival will benefit local auto-makers by increasing competition among technical rubber producers.
Other benefits will come from a "higher product quality requirements that is especially important for Russia-based foreign car assembling plants trying to localize supplies," Nikitin said.
Foreign manufacturers of household appliances may take longer to switch suppliers, and pick a factory based in the region.
"At first, the considerable part of necessary materials will be produced by our own plants [outside of Russia]," said Maria Nenakhova, PR manager for BSH Bosch und Siemens Hausgeraete, a German household appliances maker opening a freezer plant near St. Petersburg in 2007.
"After some time, possibly we will widen cooperation with local suppliers," she said, adding that it is hard to predict how soon this may be.
Reka Rubber is a part of Reka group that also includes a cable production company and a real estate management firm. The group works mainly on the Scandinavian, Baltic and Russian market, although the rubber plant will be the group's first manufacturing facility in Russia.
The company has plants in Finland, Poland and at the Far East. Last year, the turnover of Reka Rubber reached 15.4 million euros ($18.7 million).
News source: times.spb.ru


Print this news
---
Business news archive for 21 September' 2005.
Business news archive for September' 2005.
Business news archive for 2005 year.