Business news
Russia has few women in politics but plenty in business
10.20.2005 17:22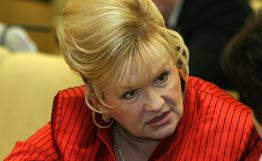 The recently released UN report, "Russia in 2015: Development Goals and Policy Priorities," states that the country lags behind in terms of gender equality. Although they have managed to hold on to their positions in education and employment, women nevertheless do not have equal access to the higher echelons of power, says Viktoria Zotikova, press secretary of the UN Development Program's Russian mission.
Female politicians agree with this assessment. Russian political elite is made up of men, said Yekaterina Lakhova, chairperson of the parliamentary committee for the affairs of women, family and youth, on October 7 at the international conference entitled "Women and Democracy." Women hold 56% of state and 70% of municipal posts, but the higher the decision-making level, the fewer women are involved, added Lakhova, who also heads the Women of Russia movement. Out of 450 deputies in the parliament's lower chamber, only 44 are women. In the 180-member Federation Council, the upper chamber, there are only nine women. The only female governor is Valentina Matviyenko in St. Petersburg, the former deputy prime minister for social issues and ambassador to Malta and Greece.
This statistics prompt feminists to speak of a patriarchal political culture in Russia. They lament that women are responsible only for a limited range of issues, such as family, healthcare, maternity and child welfare, and education. Is this sufficient for a country where women comprise more than half the population, and where 30% of women earn more than their husbands?
Russian women tend to become more active politically at turning points in history. An example of this is Alexandra Kolontai, the first Russian female diplomat, a revolutionary and free love adherent. The perestroika and post-perestroika years brought popularity to deputy Svetlana Goryacheva, Russia's foremost dissident Valeria Novodvoskraya, Chechen deputy Sazhi Umalatova and Yelena Bonner, the widow of the famous physicist Andrei Sakharov. Raisa Gorbacheva, although she did not hold an official post, rejected the image of a silent political wife and was seen in Russia and abroad as a firm political ally of her husband, the First Lady of the Perestroika. Female politicians followed her example and began to dress in a more elegant and feminine fashion.
One of the most conspicuous figures in Russian politics today is Lyubov Sliska, the parliament's deputy speaker. She has a feminine charm and a masculine mind. She believes that "female deputies are more scrupulous, responsible and creative, they make the situation in the State Duma more disciplined due to their preparation for discussions, their intellect, self-composure and open-mindedness towards their opponents."
"Both genders should be represented in politics," agrees Irina Khakamada, a right-wing party leader, extravagant and stylish, who is unlikely to resign to her present role as a political outsider. Former minister Ella Pamfilova also keeps a low profile now. In the past she ran for president, and now heads the President's Council for assisting the development of civil institutions and human rights. The prominent Russian feminist Maria Arbatova argues, however, that even high-ranking female politicians do not have any real influence on political processes. It is well known that if the share of women in parliament is below 20%, laws protecting the rights of children are not upheld properly. Women's public movements should become more active in political parties, Lakhova recommends.
Women are much better represented in science and business. Businesswomen often hold forums; famous actresses, TV presenters, sportswomen, doctors and teachers have started their own businesses. Their companies operate in different spheres, from cosmetics and canned food production to fitness and high fashion.
Big business is still dominated by men, but Russian women have joined the millionaires' club. The Forbes magazine has included Yelena Baturina, the Moscow Mayor's wife, in the list. Every twentieth Russian millionaire is a single mother, says Natalia Tikhonova, deputy director of the Institute for Complex Social Studies, the Russian Academy of Sciences. "It is psychologically easier for women to adjust to a new social and economic situation," says Irina Gorbulina, president of the Russian Academy of Business and Entrepreneurship. "Small business in Russia is run mostly by women; in many regions women are in charge of over half the small companies." A Russian woman, she adds, does not have time to lament the discrepancy between her rights and opportunities. "Russia has a reputation for smart, strong and ambitious business women. Women are increasingly often becoming heads of banks. A Russian woman in a leading position is determined and flexible, pragmatic, ambitious, and socially responsible."
As we can see, Russia has a long way to go to catch up with Scandinavia, which has the largest number of female politicians.
News source: rian.ru


Print this news
---
Business news archive for 20 October' 2005.
Business news archive for October' 2005.
Business news archive for 2005 year.